Picture Of The Day for June 21, 2008
Who Is Making Her WSU Comeback?
WSU returns to action tonight at their new venue, the Darress Theater in Boonton, New Jersey, with an incredible line-up of ring ladies competing for supremacy.
One of the highlights of this event will be the return of a popular WSU wrestler who has spent the past few months overseas. Word is that this lady has returned home after spending a semester out of the country and she's looking forward to coming back and injecting herself back into the WSU-mix. So the question is: Who is it???
Could it be G.L.O.R.Y. Girl Melissa Stripes? We haven't seen her in the WSU ring for some time now. Obviously, she's hoping to have more success tonight than she did against Cheerleader Melissa in this match, where she suffered mightily in this effective sleeperhold...uh, that is, if Melissa is the lady making her return tonight!
Photo:
Wrestlin' Wally
Bonus POD!
Picture #2
Bonus POD!
ChaCha Maybe?
Another lady who could turn out to be the Women Superstars Uncensored mystery wrestler is G.L.O.R.Y. Girl ChaCha. We haven't seen her compete for WSU over the past few months. Has she been studying overseas? Anyone know?
Here, you can tell that ChaCha is anticipating a hard landing. That's Hailey Hatred who has the Cuban-American wrestler's head cinched-up, preparing to take her down to the mat with a quick, hard snap mare.
Photo:
Wrestlin' Wally
Bonus POD!
Picture #3
Bonus POD!
Hey...Could It Be Alicia?
Maybe Alicia?
It was about six months ago when Alicia wrestled her last WSU match...about a semester ago, right? But Alicia retired after the event. The highlight of that night was her match against Becky Bayless. In a wild street fight, the two ladies beat the heck out of each other...brawling outside the ring and amongst the fans, smashing each other with a garbage can and then Becky Bayless' body being smashed through a solid wooden door.
Above, the blonde G.L.O.R.Y. Girl almost seemed more concerned with humiliating Bayless than in simply defeating her. Locking on a tight side headlock, Alicia paraded Becky around the ring...grinding the skull of the suffering brunette before smashing her against that steel barricade.
But Alicia retired, remember? So is this just a pipe dream for Alicia fans???
Photo:
Wrestlin' Wally
Bonus POD!
Picture #4
Bonus POD!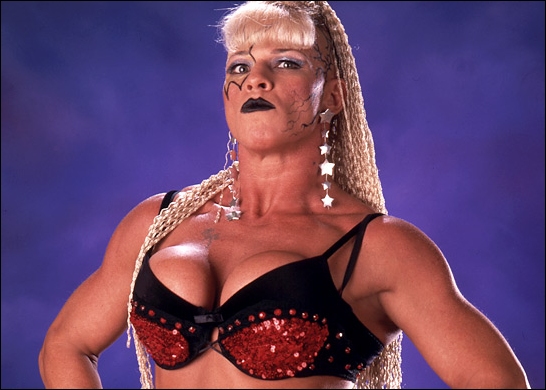 Here's A Long Shot...
Listen...if it's possible for Alicia to come out of retirement to make her WSU return, why not Luna?!
The former-WWE star retired last year. We don't know what Luna's been up to since then, but we haven't heard a lot of news about her. It's not beyond the realm of possibility that she's been pursuing a degree at an overseas university. Has she caught the wrestling bug again? Is she ready to make a return? Could that return be at tonight's WSU event?
We don't know the answer to those questions. In fact, we have no idea which of these ladies are making their ring return. Hey...we may be COMPLETELY wrong and it could be someone we haven't even mentioned here. There's only one way to find who the mystery lady is and that's to be at the Darress Theater tonight when the bell rings and the WSU mayhem begins!
Photo:
World Wrestling Entertainment