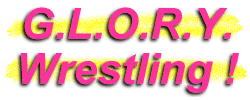 Hailey Hatred
Wrestler
Hailey Hatred may very well be one of the toughest young ladies on today's indy and international wrestling scene. You're not going to find a smile on this rowdy blonde's face very often....except, of course, when she's applying a painful and torturous submission hold on an unfortunate opponent. A big fan of the Japanese style of wrestling, Hailey also mixes in a healthy dose of out-and-out brawling to make her extremely dangerous inside the ropes. Don't be surprised when Hailey makes it to the top...not only in the US, but across the Pacific, too!
Hailey Hatred displays one of her many title belts.
This sexy lady could easily be just as successful as a model as she is a wrestler!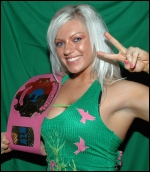 A victory sign from the beautiful Hailey!
A study in contrasts: beautiful Hailey enters the ring with a deadly steel chain.
There's no hatred present in this promo picture!
Hailey is a very popular figure when she visits Japan.
Hailey Hatred's Stats...
Height:

5' 10"

Weight:

160

Hair:

Blonde

Eyes:

Blue

Hometown:

Columbus, Ohio (USA)
Hailey Hatred's Profile...
How It Started:

I have been a fan of wrestling since I was just a little girl. I used to watch it on the weekends with my mom's friend, but it wasn't until he got hold of some New Japan Wrestling tapes that I was hooked. I remember, I was five years old the first time I saw Jushin "Thunder" Liger wrestle and he just amazed me. Everything about him! And I have been hooked ever since!

Gimmick:

No excuses, get the job done type of wrestler. Charismatic, hard-hitting and prepared to WIN!

Wrestling Style:

My style is mainly Japanese inspired. I use a variation of suplexes, strikes and submissions.

Gear:

Usually a dress. I like hassle-free attire because the last thing I want to do during an intense match is adjust my gear...so athletic, yet stylish, is what I aspire to be.

Titles Held:

AIW Women's Championship; IWA Mid-South Women's Championship; WSU Tag Championship; First ever 2-time LLF Cup Winner.

Biggest Win:

Some of my best wins are over Kana, Ayumi Kurihara, and Sara Del Rey. Also a couple draw matches with KAORU and Nanae Takahashi.

Worst Loss:

Leilani Kai; Mercedes Martinez; Sara Del Rey.

Favorite Type of Match:

I like singles the best, but I also like to mix it up with the guys in intergender tags. I`d really like to be in a submission match one day.

Favorite Moves/Holds:

Some signature moves of mine are the Northern Lights Suplex, Exploder 98 Suplex, Vertical Brainbuster, Fisherman Suplex, German Suplex, Back Cradle Suplex and Tilt-A-Whirl Backbreaker.

Finisher:

Fisherman Brainbuster; Saito Suplex; Tiger Suplex.

Biggest Allies:

My tag partner, Jessicka Havok!

Most-Hated Enemies:

Io Shirai; Mio Shirai; Nanae Takahashi.

Toughest Opponent(s):

Nanae Takahashi; Kana; Ayumi Kurihara.

Career Highlight:

Wrestling and tagging with Leilani Kai; participation in the Chick Fight Tournaments; touring Japan and Mexico.

Favorite Wrestlers:

Jushin "Thunder" Liger is my all-time favorite. Some others I enjoy are Chris Benoit, Dean Malenko, Toshiaki Kawada, Steven/William Regal, Aja Kong, Manami Toyota and Baby-A.

Wrestling Ambition:

I've proudly accomplished my career goal: touring Japan. Going forward, I would like to continue to wrestle throughout the world, especially in Japan, where I hope to become a very recognized woman wrestler and the top foreigner to ever compete in Japanese rings.
Hailey Hatred's Personal Notes...
My favorite thing to do and watch is wrestling. I like to watch Japanese wrestling the most, especially Liger. Old school New Japan Junior Division, All Japan Heavyweights and All Japan Women are my favorite era. I really get into Noah and the smaller Japanese indies these days, and I always enjoy a good tournament. I like shoot fighting and mixed martial arts/UFC as well.....Aside from watching wrestling, I am mainly training. I regularly do submission style mat wrestling as well as lifting at the gym.....When I'm not involved with all of that, I'm into bad horror movies, hanging out with my friends and family, and of course, traveling to wrestling shows.....As far as music goes, I like a vast array. The Mars Volta is my fave, but punk/industrial/electronica and trance music is where it's at!
Essential Hailey Hatred Links...
Hailey Hatred Video