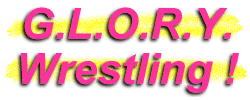 Becky Bayless
Wrestler
How can you not love Becky Bayless? This cute-as-a-button manager-turned-wrestler jumps into the ring and gives it everything she's got against whoever she's thrown in against. Victories haven't been coming easy to this spunky wrestler...mainly because she refuses to turn down matches against tough opponents who are willing to do anything to win: opponents such as the rough, rowdy and dirty-fighting Alicia. As Bayless gets more and more in-ring experience, expect the sexy brunette to collect more wins, more titles and even more fans!
Manager-turned-wrestler Becky Bayless.
A common sight: Becky getting mauled by archenemy Alicia.
But Becky also knows how to dish out some pain!
Becky with her other love: music!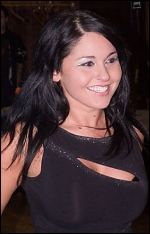 A beautiful smile from the sexy Becky Bayless.
Becky Bayless' Stats...
Height:

5' 2"

Weight:

119

Hair:

Black

Eyes:

Hazel

Hometown:

New York City, New York (USA)
Becky Bayless' Profile...
How It Started:

As a little girl I idolized "Sensational" Sherri Martel, and hoped that one day I would grow up to live out my dream of becoming a pro wrestler. I began training with Homicide at The Doghouse in Brooklyn, NY in early 2002 and it's been nothing but a roller coaster ride ever since! I feel fortunate to be able to say I live out my dreams on a daily basis, and every day is a new adventure.

Gimmick:

A good girl with more guts than brains sometimes!

Wrestling Style:

Old-school and comedy.

Gear:

Lots of pink and polka dots!

Titles Held:

TWE Texas Ladies Championship; Miss USA Pro.

Biggest Win:

Every win is big for me, since they are few and far between!

Worst Loss:

Every time I lose to Alicia, which happens entirely too often!

Favorite Type of Match:

Mixed tags.

Favorite Moves/Holds:

Tornado DDT; STF; La Majistral; jawbreakers.

Finisher:

Reverse Pedigree.

Biggest Allies:

The Minnesota Homewrecking Crew (Lacey & Rain); The Rest of the YRR (Sal Rinauro, Kenny King, Chasyn Rance, Jason Blade, So Cal Val and the Homewreckers); Allison Danger; Daizee Haze.

Most-Hated Enemies:

Without a doubt, ALICIA!

Toughest Opponent(s):

Again, gotta be Alicia!

Career Highlight:

Having my first match in ROH facing Mickie James; Participating in the 2004 IWA Mid-South Volcano Girls Tournament; Winning my first title (TWE's Texas Ladies Championship) in July 2007; Being chosen to participate in the 6th Annual WXW Elite 8 Tournament.

Favorite Wrestlers:

Homicide; Sara Del Rey; Daizee Haze; Delirious; Shawn Michaels; Ric Flair; Trish Stratus; "Mr. Perfect" Curt Hennig.

Wrestling Ambition:

To stay thick-skinned and level-headed. And most importantly, to entertain the fans that make it all possible.
Becky Bayless' Personal Notes...
Music is my other love (second to wrestling, of course), and during my hiatus from the wrestling industry I worked at a record label with tons of amazing bands. When my time in wrestling is up, I plan to study entertainment law and return to the music industry as an artist manager.....In my free time I love to: check out new music; go to concerts and the beach; visit my friends that are spread out all across the country (and Canada too!); catch up on sleep; shop for more polka dot apparel than one girl possibly needs; watch trashy reality TV.
Essential Becky Bayless Links...