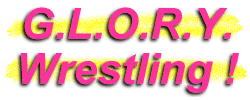 Alicia
a.k.a. Miss Alicia
Wrestler
Smart, attractive and totally committed to winning at any cost, Alicia is sure to go far in the world of pro wrestling. Alicia knew early on that she wanted to become a wrestler...so she took action and actually started her training while still attending high school! Wrestling for many of the East Coast's most popular indy feds, Alicia is not to be underestimated...this sexy "school girl next door" will throw the rulebook out the window in the blink of an eye. With her drive, determination and ruthless attitude, there's no doubt that Alicia is on her way to the top of the grappling class!
Any "Top 10 Sexiest Women Wrestlers" list has to include the gorgeous blonde Alicia!
As tough as she is sexy, Alicia sends a boot to the face of her opponent!
Alicia awaits her opponent in the ring.
Who wouldn't want to dip the gorgeous Alicia?!
All we can say is: WOW!
Alicia's Stats...
Height:

5' 4"

Hair:

Blondes have more fun =)

Eyes:

Light Brown

Hometown:

Hackensack, New Jersey (USA)
Alicia's Profile...
How It Started:

Back in the day (6th grade!) I became BFF with a guy who loved pro-wrestling. It was his obsession--now I'm talkin', the ONLY thing he talked about. So I started to tune in to see what was so great about it. Instantly I was addicted! I couldn't get enough. After going to tons of shows and autograph signings, my Mom noticed how I loved it and how much I wanted to step in the ring myself. With Mom Alicia being 110% supportive, we looked at wrestling schools, and in the end she signed me up!

Gimmick:

Depends on the day. When I'm good, I'm REALLY good...and when I'm bad, I'm better than you! : )

Wrestling Style:

A little bit of everything.

Gear:

Usually I rock a one piece outfit, but sometimes I'll mix it up.

Titles Held:

2005 WXW Women's Elite 8 Champion; AWA Women's Championship; SSCW Women's Championship; IHPW Women's Championship; WXW Women's Tag Team Championship (w/Cindy Rogers).

Biggest Win:

October 23, 2005: Defeating Cindy Rogers in the finals of the 2005 WXW Women's Elite 8 Tournament.

Worst Loss:

When April Hunter and Mercedes Martinez defeated Cindy Rogers and me in a CCW tag match.

Favorite Type of Match:

THREE WAY DANCES ARE THE BEST! I'm also a fan of intergender, mixed tag and singles.

Favorite Moves/Holds:

"Hiptoss of Doom" (Sitout Hiptoss); "Bergen County Driver" (Cross Arm Top Rope Driver); "Oral Fixation" (Running Yakuza Kick In The Corner).

Finisher:

"The A-Bomb"...a variation of the Mitchinoku Driver

Biggest Allies:

Jonny D; Rhyno; Kevin Matthews; Rick Cataldo (LOVE HIMMM!); Archadia; Missy Sampson andddddd myself! ;)

Most-Hated Enemies:

April Hunter; Melissa Stripes; Alexa Thatcher; UGHHH Kayla Sparks; UGHHH UGHHHHH Everyone's favorite ALF--Alere Little Feather; Mercedes Martinez even though she scares me a little...VERY LITTLE.; that Nikki Roxx character; and the list goes on!

Toughest Opponent(s):

MISS KARA SLICE. I always said she was one tough cookie, and now you can see why!

Career Highlight:

Being one of the longest steady JAPW girls and constantly getting top notch match opportunities there. Also, managing Rhino for his return to the ECW Arena was amazing.

Favorite Wrestlers:

Lance Storm; Shawn Michaels; Jericho; Sunny; Sherri Martel; Molly Holly.

Wrestling Ambition:

To make it as far as I can while still being happy & healthy.
Alicia's Personal Notes...
I'm a full-time college student. I'm majoring in Marketing/Advertising.....I'm obsessed with MTV, VH1 and the E! channel--luckily they are channels 51, 52 & 53!.....My favorite colors are black & white. I think they are so classy.....I love to go on road trips.....I was prom queen =).....I'm into all kinds of music, I especially love anything I can dance to.....I LOVEEEEE going out with my friends. New York City is only minutes away from me so I'm spoiled when it comes to going out to awesome clubs & lounges.....I LOVE BASEBALL AND THE NEW YORK YANKEES! I try to go to as many games a season as I can.....HI MOM & DAD!!! LOVE YOU!!!.....And finally, I'm a MySpace fiend and you should check out my page!

R.I.P. Steve "AXIS" Ranton
Essential Alicia Links...