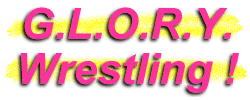 Melissa Stripes
Wrestler
A rookie to the wrestling business, Melissa Stripes has just started her career in the rings of the New Jersey indy scene. This youngster has been training hard with her eye on the prize of a WWE or NWA-TNA contract. She's already been recognized as ECPW's "Junior Wrestler of 2004"...the first in what is sure to be many accolades bestowed upon this young athlete. The future looks bright for Melissa Stripes!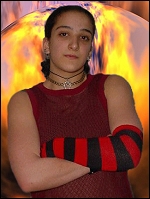 Melissa Stripes!
Melissa feels the pain as Alicia wrings the arm.
Ariel is about to hit the mat courtesy of a Melissa Stripes tilt-a-whirl headscissors.
Melissa Stripes' Stats...
Height:

5' 4"

Weight:

120

Hair:

Multi-colored (mostly brown)

Eyes:

Dark Brown

Hometown:

Greenwich Village, New York (USA)
Melissa Stripes' Profile...
How It Started:

I always watched wrestling with my brothers and grew to love it as I got older. Then when I started seeing people like the Hardy Boys, I wanted to be just like them and get into the wrestling business. When I turned 14, I found a school that was just ten minutes from my house and I've been training there ever since.

Gimmick:

Punk rock, bad ass, anti-diva.

Wrestling Style:

High-flyer; technical.

Gear:

Fish net shirts covering a black shorts bra, with black pants. Also, I like to wear a lot of wrist bands and arm bands. I always wear my sun choker.

Titles Held:

ECPW Jr. Champion.

Biggest Win:

Making Dirt Bag Dan quit and getting his title at the same time.

Worst Loss:

Losing my SSCW tag match with Tara Charisma when we fought against Ariel and Alicia.

Favorite Type of Match:

One on one.

Favorite Moves/Holds:

Tilt-A-Whirl Headscissor; flipping neckbraker; hip-toss reversed into a wheel barrel to a victory roll.

Finisher:

Dead Poet Anthem: wheel barrel to an X-factor.

Biggest Allies:

I'm friends with just about everyone.

Most-Hated Enemies:

Dirt Bag Dan

Career Highlight:

Being named "Junior Wrestler of 2004" at ECPW.

Favorite Wrestlers:

Hardy Boyz; Kurt Angle; Chris Benoit; RVD; The Hurricane; Victoria.

Wrestling Ambition:

To make it to the WWE or TNA. Also to wrestle in Japan.
Melissa Stripes' Personal Notes...
I'm pretty much a depressed little weirdo! I do nothing but sit home and listen to music, write poetry, and draw.....I love to listen to emo, punk, and alternative. My favorite bands are Feeling Left Out, Onelinedrawing, Brand New, Smashing Pumpkins, Anti-Flag, Moneen, No Motiv and Saves the Day.....My favorite movies are Murder By Numbers, Empire Records, Fight Club and American History X.....I love hot summer rainy days and warm summer nights.....I'm mostly quiet and laid back.....My favorite colors are black and navy blue.....My favorite food is shrimp.....And if I had to choose, I would drink iced tea for the rest of my life!.....Click here if you want to check out some of my poetry.