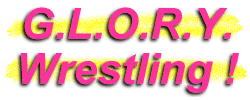 ChaCha
Wrestler
Don't expect to see any dancing when ChaCha is in the ring. Instead, be ready for a tough, hard, athletic and entertaining match! This beautiful Cuban grappler is only just starting her ring career, but she's already been turning heads with her beauty and garnering praise with her wrestling prowess. Facing some of the Northeast's top indy stars and wrestling for nearly a dozen top federations during her short time in the business, ChaCha's wrestling future looks bright indeed!
ChaCha is ready to take the wrestling world by storm!
ChaCha has a big chop in store for Ariel.
Are you ready to join "Team ChaCha"?
ChaCha bridges high to put the pressure on Alexa Thatcher.
Her friends call her "The Chachster"!
Who would ever think that this smiling advertising executive by day is a fiercely competitive pro wrestler by night?!
The Chachster sends a vicious kick to the back of Luscious Latasha.
ChaCha and Alicia pose for a fan picture at intermission.
ChaCha's Stats...
Height:

5' 5"

Hair:

Chestnut brown with caramel highlights.

Eyes:

Brown

Hometown:

Miami, Florida (USA)...You know, with the rest of the Cubans!
ChaCha's Profile...
How It Started:

Well, I've always been a fan--I think every wrestler starts out that way, really...loving the characters, the stories that unfold, etc. Anyhow, pro wrestling was something I really liked, but that I really didn't share with others, particularly as I got older (I did a lot of dance and theater growing up, and most of my friends probably wouldn't have understood my appreciation or fascination with it...they mostly dismissed and looked down on professional wrestling without ever really giving it a chance). As time went by, more and more I considered the ways that pro wrestling related to all the things I was already actively pursuing: these people were telling a story and connecting with an audience, while using their bodies in a way that often defied explanation (like dance). This all appealed to the performer in me, and I was intrigued by the challenge of the added athleticism and discipline that pro wrestling demands of a worker...making the move to try it myself was really the next logical step. Once I was out of college I started following the independent circuit, and as soon as I found out that there was a school where I could train a mere five minutes from where I lived, I knew that it had to be a sign. Within a month I was training with Jay Lethal at the AWA, and I haven't looked back since.

Gimmick:

People often refer to ChaCha as "spunky", "energetic", "enthusiastic" and "sassy"...and I think they're pretty much on the money! ChaCha is a born performer, and it shows. She's also an intense opponent, as she revels in competition. She fiercely dislikes workers who can't hold their own in the ring and depend on their looks to get them by, but holds those who can stand their ground in high esteem and respect. A couple other important things to know about ChaCha is that she's extremely proud of her Cuban heritage, and that she absolutely loves connecting with audiences and making them feel like they're an integral part of the experience--because without the fans, this business wouldn't exist!

Wrestling Style:

ChaCha's style can be described as a combination of old-school and technical, with a big dash of striking thrown in to keep things interesting. ChaCha particularly enjoys intricate chain wrestling and submission maneuvers.

Gear:

ChaCha's signature colors are black and red. Fans are most familiar with her standard black gear with red collar and accents, as well as her "Team ChaCha" track jacket.

Titles Held:

None...yet!

Biggest Win:

Every win is a big one!

Worst Loss:

Every loss stings, but I think the most painful (literally and figuratively) has been the loss to Alicia in my WXW debut. It was a hard fought match, and rather than receiving a post-match handshake I was greatly disrespected in the form of an attack with a belt.

Favorite Type of Match:

I honestly enjoy few things more than a simple singles or tag team match--just pure wrestling, though...no weapons or gimmicks necessary, and PLEASE no rolling around in our underwear, thankyouverymuch!

Favorite Moves/Holds:

"Cuban Deathlock"

(Muta Lock); diamond cutter; victim kicks; chops and forearms. But I'm always interested in learning more and expanding my repertoire, so favorite moves of the moment can change from day to day!

Finisher:

"The ChaCha Factor"

...which is a snap DDT.

Biggest Allies:

Joe Hardway (who's been on my team since day one!); Alere Little Feather; Tara Murphy; Alexa Thatcher.

Most-Hated Enemies:

Hate has no place in the ring--it's all business...but disrespect me or my friends, and consider yourself a marked person.

Toughest Opponent(s):

"PrymeTyme" AmyLee; Mickie Knuckles; Hailey Hatred.

Career Highlight:

I consider every new experience and opportunity a highlight--this is a constant learning process, and I'm excited to continue on the journey and take it all in!

Favorite Wrestlers:

Women: Molly Holly/Nora Greenwald is at the absolute top of my list--between her technical ability and her ability to stay true to herself throughout her time in pro wrestling, she's a fantastic role model. I also really enjoy the work of Ivory, Mercedes Martinez and Alexis Laree/Mickie James. Men: I'm a big fan of the 80's guys--Steamboat, Roberts, DiBiase, Rude, Savage and Hennig are among my favorites. Other favorites include Chris Jericho and William Regal. Owen Hart's work holds a special place in my heart--his energy and intensity are something I look to draw upon in my own work.

Wrestling Ambition:

I want to go as far as my body and mind will take me! My wishes are to pursue my goals while staying happy, healthy, and above all, safe! I'd like to travel and perform all over, and hopefully inspire the next batch of ladies to take the chance and follow their dreams of getting into the ring. My other goals are to entertain as many people as possible--make them feel like they're truly a part of things, and that every show is more than just a show, but an experience; to never, EVER stop learning and improving upon my skills; to make a solid name for myself; and to do my part to show the world that there IS a place for women in professional wrestling that doesn't necessarily have to involve a nude photo spread!
ChaCha's Personal Notes...
I'm a graduate of Rutgers University, Class of '02. Go Scarlet Knights!!!.....I've danced all my life! I'm certified to be a dance instructor by Dance Educators of America, and I also danced competitively on the intercollegiate ballroom circuit (competing in 18 types of ballroom and Latin dance). The name "ChaCha" actually came from my competition days--it was the nickname my ballroom team gave me after the first dance that I placed with in competition was the cha-cha-cha! These days, ChaCha is what pretty much everyone calls me, in and out of the wrestling business.....I'm an avid reader. Two of my favorite authors (who I highly recommend) are Chuck Palahniuk and Douglas Coupland.....I'm a big theater geek! I did a lot of musical theater growing up, and some of my favorite productions were Little Shop of Horrors, Footloose and Jesus Christ Superstar.....I love writing, and spend much of my commuting time working on that. I blog regularly on my MySpace site (where my blog is top-rated and currently has over 400 unique subscribers) about topics from relationships, to etiquette, to fashion and everything in between. I'm also big on linguistics, grammar, and the general study of the written word...yes, I'm a proud, card carrying nerd.....Favorite quote of the moment–-I'm finding it to be more true every day: "Life isn't about finding yourself. Life is about creating yourself."
Latest ChaCha News...
ChaCha's been flying under the radar for just a while. Where can we expect to see her pop up next? Only time will tell! ;o)