Picture Of The Day for August 20, 2009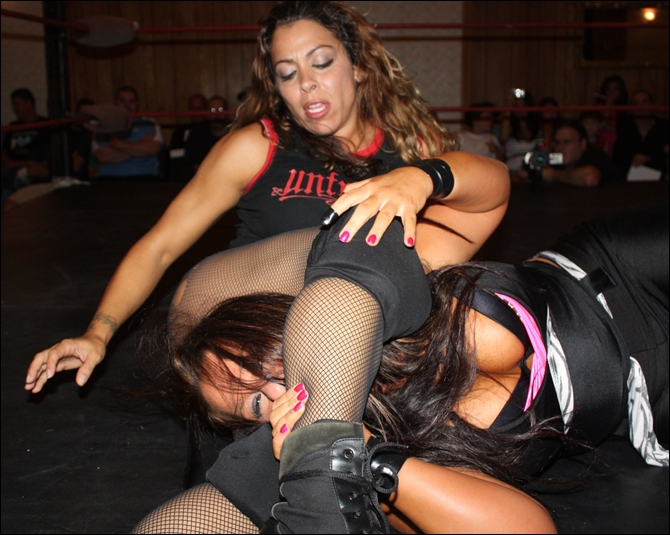 "I Came Back For THIS?"
Over the last couple of days we've showed you G.L.O.R.Y. Girl Brooke Carter getting worked over in last weekend's WSU tag team match in Belleville, New Jersey. Well, one of Brooke's partners was the recently un-retired Alicia. The long time G.L.O.R.Y. Girl returned this summer to compete for WSU...but we don't think she had this in mind when she decided to jump back into the ring! Take a look at the abuse the fan favorite absorbed in this match from each member of the opposing team...
That's Angel Orsini (a.k.a G.L.O.R.Y. Girl Riptide) who has Alicia suffering on the mat in a tight leg scissors [above]. The worst part of the hold for Alicia may come not so much from Orsini's legs, but from her fishnet stockings. It looks to us like Angel is purposely trying to maneuver those fishnets across her victim's face in an attempt to rub, bruise and rake raw the blonde's pretty features!
Next, it's Jessicka Havok doing some damage. Again, Alicia's face is the target as Havok grabs the hair, rakes the eyes and grinds the sexy wrestler head-first into the mat [Picture #2].
Alicia's back had a turn to absorb some punishment, too...thanks to this perfectly executed double-underhook suplex from Hailey Hatred [ #3]. Fans in attendance only got to see a flash of Alicia's intricate lower back tattoo as she was snapped over fast and crashed into the mat hard by the violent Hatred.
We can't help but think that Alicia must have been wondering to herself during this assault: "I came back for THIS?"
Photo:
Hollow
Bonus POD!
Picture #2
Bonus POD!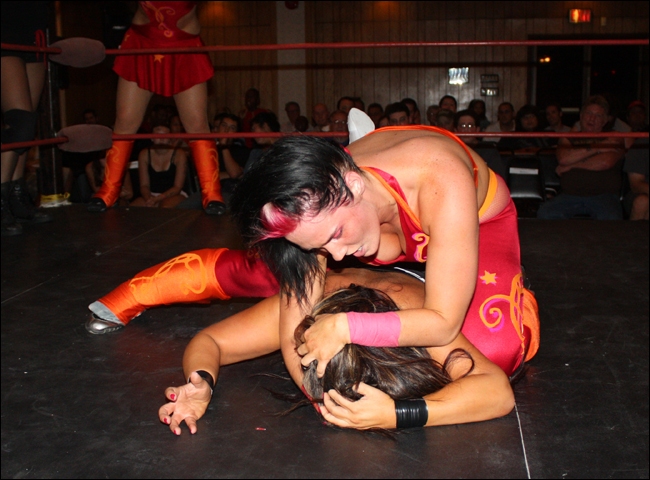 Photo:
Hollow
Bonus POD!
Picture #3
Bonus POD!
Photo:
Hollow