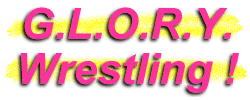 Riptide
a.k.a. Angel Orsini and ECW Prodigette
Wrestler
If you're looking for the ultimate package in women's wrestling, Riptide could easily be your top choice. Strong. Cocky. Aggressive. Skilled. Beautiful. All are accurate descriptions of this ring warrior. Riptide's previous experiences include working as a professional no-holds-barred fighter in Japan, as well as a stint in the rough and tumble world of ECW as Prodigette. Don't take your eyes off Riptide, because this powerful lady will surely be topping the women's rankings in the near future.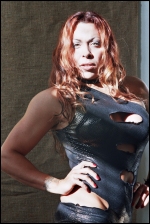 She's back and stronger than ever: Riptide!
Now based in Europe, Riptide has been training in Muay Thai kickboxing and MMA Fighting.
Have you ever seen a more sexy and tough schoolgirl?!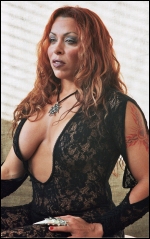 Riptide looks like a classic female warrior.
Riptide's Stats...
Height:

5' 5"

Weight:

140

Hair:

Red

Eyes:

Green

Hometown:

Rotterdam (Holland)
Riptide's Profile...
How It Started:

I was a professional no-holds-barred fighter competing in Japan. I met pro-wrestler Reggie Bennett who encouraged me to watch the pro matches on that show and consider getting involved with the sport. I enjoyed the performance of the Japanese women so much...I had no idea that women could wrestle like that! I decided to give it a try. As soon as I came back to the states I started looking for a school. I was introduced to Liz Chase, who taught me and got me started in the business.

Gimmick:

Aggressive, vicious and cocky.

Wrestling Style:

Versatile and proficient as a martial artist, technical wrestler and hardcore brawler. I prefer to be spontaneous and unpredictable for the fans watching. Plus, I am always learning new moves. Training is a lifestyle because you can never arrive.

Gear:

I go with a sexy look...various costumes to show-off my physique.

Titles Held:

PGWA Champion; Florida Championship Wrestling Champion; Sunshine Wrestling Federation Champion; Ultimate Wrestling Federation Champion; Hot-TV Wrestling Champion.

Biggest Win:

Over Luna Vachon. (She kicks ass!)

Worst Loss:

Joannie Lauer, a.k.a. Chyna.

Favorite Type of Match:

I love hardcore matches, but now that I've relocated to Europe I have started to train for Muay Thai kickboxing and MMA Fighting. I just earned a sponsorship to train for pro boxing and I'm really enjoying this kind of fighting a lot. Of course I'm still doing pro wrestling, but it's time to take everything to the next level.

Favorite Moves/Holds:

Variations of suplexes and bridge suplexes.

Finisher:

Moonsault, Frankensteiner or Super-Frankensteiner.

Favorite Wrestlers:

Owen Hart. God bless him!

Wrestling Ambition:

I would like to continue working here in Europe and build my name up. I'd also like to continue working in the U.S. when I come back to visit. And I would like to go back to Japan, because it is hard to make it over there and I love a good challenge! Of course, I would really love to get a job with WWE because they are the pinnacle of our sport. I am looking forward to making my mark in boxing, thai kick boxing and getting back into MMA. Now that there's more girls to compete with, I'm excited to see where it will lead me.
Riptide's Personal Notes...
I am hyper and enjoy doing many physical sports and activities like snow skiing, deep sea fishing, four wheeling, motorcross dirt biking, horseback riding and iron horse riding (Harley Davidson, baby!).....I love going to amusement parks and I have to go on every roller coaster ride there is!.....I also love heavy metal and punk rock. I had a great time at Ozz Fest in Connecticut and was happy to help out the radio station (WCCC 106.9) by beating up Jeff The Ref onstage and hitting him with a moonsault off of a table! I was all pumped up for after moshing to Slipknot. I do feel a little bad for some of the guys that I chopped in the parking lot before the show because I didn't take my spike bracelets off and left nasty gauges in their chests... but they said I hit like a girl! So now they're scarred for life! Hahaha!.....My favorite bands are: Pantera, Slipknot, Korn, Static X, System Of A Down, Lamb Of God, Suicidal Tendancies, Rob Zombie, White Zombie, Metallica, Mortorhead, Iron Maiden and Black Sabbath.
Essential Riptide Links...