Picture Of The Day for August 19, 2009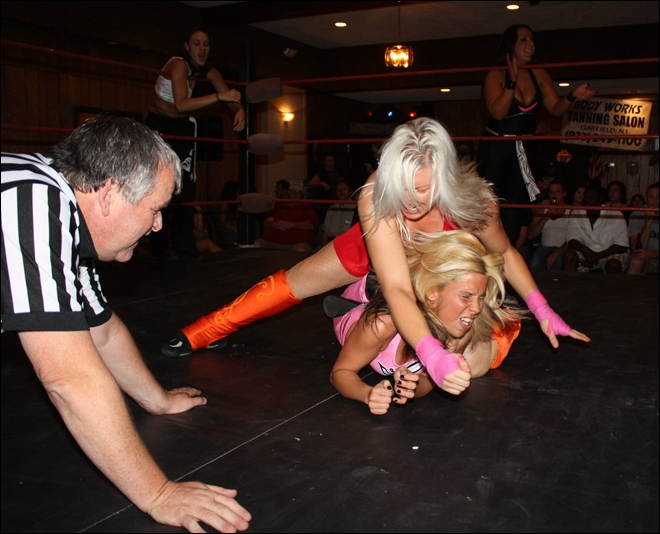 Battering Brooke...
Yesterday we gave you a taste of some of the punishment that Brooke Carter absorbed at the hands of the double-teaming duo of G.L.O.R.Y. Girl Hailey Hatred and Jessicka Havok at this past weekend's WSU-sponsored match in Belleville, New Jersey. But that wasn't all the pain that Carter took during the match. After Hatred and Havok caused...well, havoc!...with their attack on the blonde G.L.O.R.Y. Girl, they took turns in dishing-out a little one-on-one punishment. Hailey struck first as she straddled Carter, locked-up the legs and then proceeded to pound away with hard right and left forearm shots to the sides of Brooke's skull [above].
Not to be outdone by her partner, Jessicka Havok spared no punishment when she tagged in and went on the attack. Her preferred method of abuse was to stretch and bend Brooke's neck and spine with a scream-inducing camel clutch [Picture #2]. But even that was not enough to quench the thirst for violence embedded within Havok. Take a look as she adds to the treachery of that camel clutch by plunging a finger into the side of Carter's mouth and ripping the suffering beauty with a wicked fish hook [ #3]. How nasty can you get?!
Photo:
Hollow
Bonus POD!
Picture #2
Bonus POD!
Photo:
Hollow
Bonus POD!
Picture #3
Bonus POD!
Photo:
Hollow