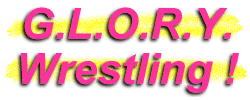 Brooke Carter
Wrestler
Beautiful blonde Brooke Carter has been turning heads all her life. Since her ring debut in early-2008, not only her good looks, but her grappling skills have caught the interest of wrestling fans across the Northeast. Teaming with friend and ally Miss April, Brooke has already captured WSU tag team gold. Carter has also seen mixed tag action, as well as plenty of singles contests over her young career. The future couldn't look any brighter for this gorgeous warrior. Keep your eyes on Brooke Carter!
Beautiful ring newcomer Brooke Carter!
A fan favorite, Brooke collects high-fives on her way to the ring.
Carter slugs it out with archenemy Jana!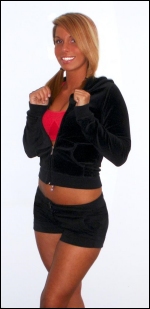 Brooke goes casual...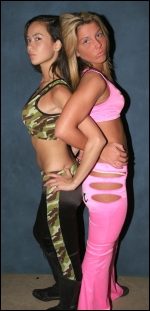 Almost inseparable: the tag team of Miss April and Brooke Carter.
Brooke Carter's Stats...
Height:

5' 3"

Weight:

115

Hair:

Blonde

Eyes:

Hazel

Hometown:

Long Island, New York (USA)
Brooke Carter's Profile...
How It Started:

It all started when I was in Junior High and all of my friends would talk about wrestling. So one Monday night I went home and decided to watch what all of my friends were talking about. From that point forward I fell in love with wrestling! I had my parents buy me one of the volumes and went into their bedroom and pretended to be one of the superstars. As I got older, my brother's friend and workout buddy told him that he was training to become a professional wrestler. My brother found it to be funny and sent me a text message about it. Of course, I drove to the gym where they worked out and talked to his friend about where he was training and told him I was interested. He kept me updated on the phone until he took me with him to the training center. Since I first went to train, I've fallen more in love with wrestling! I'm so happy that I'm pursuing my dream and didn't let anyone stop me from doing so.

Gimmick:

The cute blonde girl next door who everyone loves. But if you get on my bad side, this nice girl can be bad! ; )

Wrestling Style:

Technical...and most of the time an underdog. But don't be fooled, because this little chick can bust out some high flying moves!

Gear:

Normally sporting a two-piece. One is pink with black writing...the other is blue with black writing. I love those cute colors, but get ready to check out my new one that's coming which is black and green. : )

Titles Held:

Currently the tag team champion of WSU with Miss April.

Biggest Win:

When Miss April and I had a tag match against the tag team champions at the time (Roxie Cotton and Annie Social). We took those cute little belts right off their hands!

Worst Loss:

No loss is ever a

"good loss"

or a

"bad loss"

...but I learn from my mistakes and never make them a second time.

Favorite Type of Match:

Mixed tag matches are always my favorite. You have to mix it up a little and roll around with the boys, too. ; )

Favorite Moves/Holds:

Hurricanranna; flying head scissors; bulldog; corner knee strike; bronco buster; thump and swinging neck breaker.

Finisher:

"The Blonde Bomber"

(front lung blower).

Biggest Allies:

Alicia; Miss April; Reyna Fyre; Gorgeous George; Bandido Jr; Vicious Vin.

Most-Hated Enemies:

Danny DeManto; Rick Cataldo; Roxie Cotton; Jana; Trixie Lynn; Annie Social.

Toughest Opponent(s):

Every opponent I step into the ring with is tough in their own way. You just have to go out there and try your hardest to become as tough as they are, if not tougher.

Career Highlight:

Making my professional wrestling debut will always be one of my career highlights because I never thought it would become a reality.

Favorite Wrestlers:

Trish Stratus; Alicia; Mickie James; Lita; The Rock; Stone Cold Steve Austin; Rey Mysterio; Jeff Hardy; Bret Hart; Macho Man Randy Savage.

Wrestling Ambition:

To improve and learn from every match.
Brooke Carter's Personal Notes...
I'm a brand girl at heart. I was a manager at Abercrombie and Fitch for three years.....I live inside tanning salons!.....I have SEVEN tattoos and one of them is the same one as Jenna Jameson. ; ).....I love the Yankees, Jets and Rangers.....I want a Lamborghini!.....I was born in Bayridge, Brooklyn.....Ummm, anything else you want to know, just ask!
Essential Brooke Carter Links...
Brooke Carter Video