Picture Of The Day for August 18, 2009
Pink Ping Pong?
It was tough times for G.L.O.R.Y. Girl Brooke Carter this past weekend as she participated in a six-woman tag match in Belleville, New Jersey, sponsored by Women Superstars Uncensored. The match--in which Carter teamed up with Alicia and Mercedes Martinez to face Angel Orsini, Hailey Hatred and Jessicka Havok--found the blonde beauty taking a terrible beating. The trouble started early for Brooke as she was victimized by the double-teaming duo of Hatred and Havok. In fact, the pair decided to take a break from wrestling at one point to play a little ping pong...using poor Brooke as the ball! Havok served things up with a right to the side of Carter's head [above], sending her careening in the opposite direction towards the waiting Hatred. It didn't take long for the violent blonde to make the return as she set up the woozy Brooke for a hard right fist of her own [Picture #2]. The volley continued until the pink-clad Carter was pounded senseless and dropped to the mat.
But that doesn't mean that her torment was complete. More tomorrow...
Photo:
Hollow
Bonus POD!
Picture #2
Bonus POD!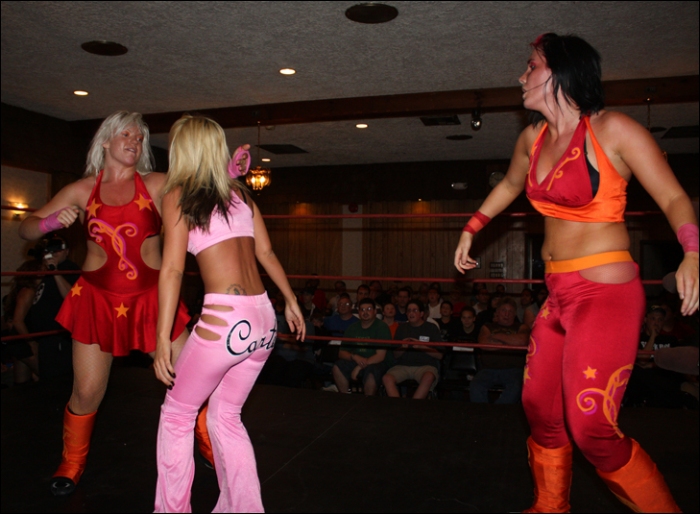 Photo:
Hollow