Picture Of The Day for September 18, 2008
Coming soon to a video store near you: SHIMMER 20!
Ever since the live taping of the SHIMMER Vol. 20 event back in early July, fans everywhere have been waiting for the DVD to be released. According to SHIMMER head honcho Dave Prazak, production of the event has been completed and the DVD manufacturing process has begun. In a few short weeks, fans will be able to purchase this great event.
One of the highlights of Vol. 20 is a highly competitive match between two G.L.O.R.Y. Girls...namely, Ariel and sometimes-friend/sometimes-enemy Nikki Roxx. In a match high on technical expertise, both ladies got in plenty of offense. Above, Ariel catches Nikki coming off the ropes with a perfectly-executed clothesline that flattens the buzz-cut G.L.O.R.Y. Girl. But Roxx displayed plenty of technical expertise of her own. The body-wrecking backstretch you see below had the Portuguese Princess howling in pain as the vertebrae in her beautiful body were strained to the limit.
While the match was chock-full of technical prowess, the inevitable display of rough and tumble street brawling also reared its head...as it always seems to do when these two rivals square-off. A Nikki Roxx stomp aimed at Ariel's head just misses the mark, although the blow still rattles the brunette as it crashes into her deltoid/collarbone area. Answering with some rough tactics of her own, Ariel relies on her fists to cause some damage as she pummels the back of Nikki's skull with some crunching fists. With the loss of her hair after a previous TNA match, the blows sting even more than normal as Roxx doesn't have her usual, curly locks to absorb the impact from those pounding shots.
For a great rundown of the SHIMMER Vol. 19 and Vol. 20 shows, check out Dave Prazak's review and insight into the event which he recently posted to the G.L.O.R.Y. Message Board. Who better to give you the inside scoop than the guy who runs the company?!
Photo:
Wrestlin' Wally
Bonus POD!
Picture #2
Bonus POD!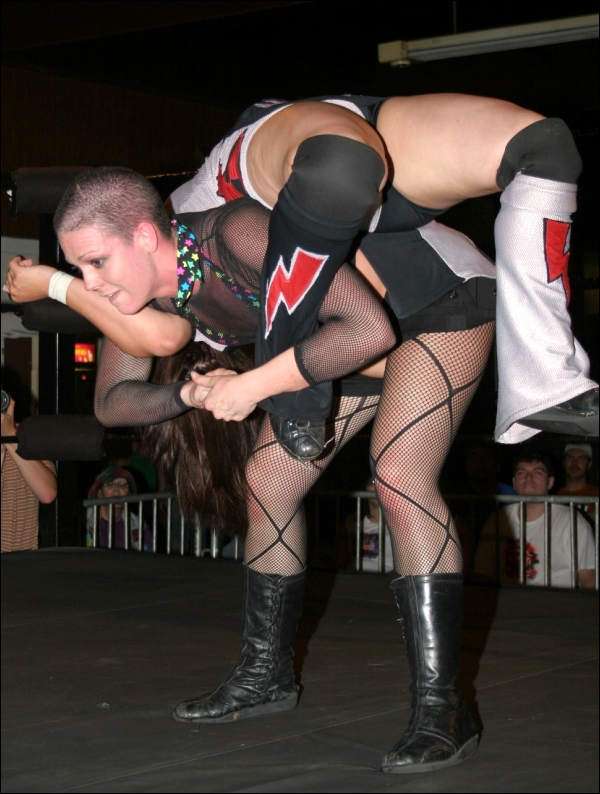 Photo:
Wrestlin' Wally
Bonus POD!
Picture #3
Bonus POD!
Photo:
Wrestlin' Wally
Bonus POD!
Picture #4
Bonus POD!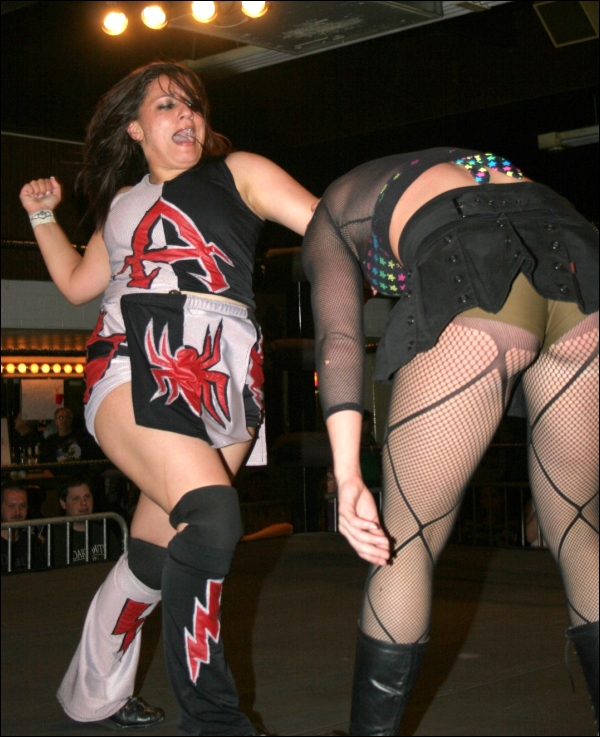 Photo:
Wrestlin' Wally