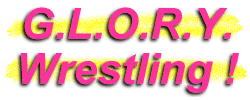 Nikki Roxx
Wrestler
In just a few short years, Nikki Roxx has not only made a name for herself throughout her Northeast homebase...she's also gained a substantial fan following in her new "wrestling home away from home": Mexico! This beautiful, tough, blonde bundle of energy enjoys showing off the skills she learned at Killer Kowalski's Wrestling School while pushing her opponents to the limit inside the squared circle. Not one to flaunt the rules of the ring, Nikki is determined to show her younger female fans that there are no limits on what they can achieve. These young fans are sure to succeed with a role model like Nikki Roxx!
Nikki Roxx proudly wears her LLF Mexican belt.
Nikki is about to dump an unfortunate opponent to the mat.
Away from the ring, Ms. Roxx strikes a sexy pose!
A battered and bloody Nikki Roxx after a brutal steel chain match in Mexico against arch-enemy Arianna.
Nikki and tag partner April Hunter.
Nikki Roxx's Stats...
Height:

5' 9"

Weight:

140

Hair:

Blonde/Brown

Eyes:

Brown

Hometown:

Boston, Massachusetts (USA)
Nikki Roxx's Profile...
How It Started:

It was pretty funny. I was a wicked tomboy. I started going to the shows with my mom and dad. Then they split up and it ended up with just me and my mom going. It's pretty common for a mom to take her son to a show...but to see my mom walking around the shows with me was pretty funny. Then I met my boyfriend, who showed me there was a school you had to go to and there was such a thing as independent shows. That's when I got hooked. I used to go and watch him at class. Then I befriended one of his classmates (April Hunter). She talked me into giving it a try. See, I'm not one of the typical stories where I wanted to be a wrestler ever since I was a little girl. I was just a fan...but after one try-out, I realized this was what I wanted to do.

Gimmick:

I just love to wrestle! I like to go out there and have a straight up wrestling match. I'm someone who wins by following the rules.

Wrestling Style:

It's really hard to pin-point my style. I love mat wrestling and I love to fly. I try to find a happy medium.

Gear:

Short shorts and a half shirt. I usually wear my name on my clothes.

Titles Held:

Lucha Libra Feminil Juvenil Belt (Young Blood); Lucha Libra Feminil Tag Team Titles (with Diana La Cazadora).

Biggest Win:

I don't normally want to lose, so I guess every win is the biggest.

Worst Loss:

Every loss is a bad one!

Favorite Type of Match:

I don't really have a preference. I just love to wrestle, so any type of wrestling match works for me!

Favorite Moves/Holds:

There are so many it's hard to narrow it down.

Finisher:

Anything that gets me the win. I try to use different move or holds every match to always keep my opponent on their toes!

Biggest Allies:

April Hunter (my tag partner); Diana La Casadora (my other tag partner); and all the fans that stand behind me.

Most-Hated Enemies:

Anyone who trys to hold me back or gets between me and a win.

Favorite Wrestlers:

I love Eddie Guerro and Kurt Angle. They are my favorites to watch! I don't think I have ever seen either one have a bad match. For girls, it would definitely be Ivory. She's great on the mic and backs it up in the ring.

Wrestling Ambition:

The same as anyone else who gets into wrestling. Firstly, travel as much as you can in wrestling and then making it to WWE. Secondly, to hopefully inspire younger girls and show them that there are no limits for women.
Nikki Roxx's Personal Notes...
I currently have no life outside of wrestling. LOL! If I'm not training, I'm at the gym.....But, when I do get some time to myself, I love to go to the movies. I love any kind of movie. From Horror to Disney!.....I try to read a lot. Mostly horror and biographies.....I love all types of music, but my favorites are classic rock (which I prefer most) and metal.....And I love football!
Essential Nikki Roxx Links...