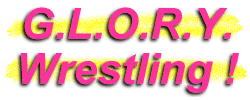 Ariel
a.k.a. Portuguese Princess
Wrestler
Ariel may be small in stature, but she has a heart the size of Madison Square Garden...which is where you may find her wrestling one day! Why do we say that? Because when this scrappy, determined and attractive young lady sets her mind on her goal, she'll let nothing stand in her way. No wonder she's become one of the favorite G.L.O.R.Y. Girls of wrestling fans around the world! It doesn't matter whether Ariel is standing across the ring from a more experienced wrestler, a larger opponent or a male challenger...she can be counted on to give it her all. That's why the fans who see Ariel in action fall in love with her! Although she's already won numerous championships, you can expect to see many more title belts around the waist of this talented lady in the years to come.
Ariel has already come a long way in the wrestling business...and her future is looking bright!
Ariel's colorful and ever-changing outfits have become big hits with wrestling fans everywhere.
Ariel and Brenndan Michael Thomas are 2 Pretty in Pink!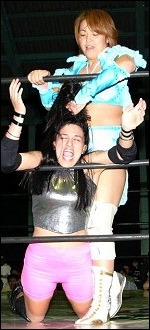 In her 2004 overseas tour, Ariel learned just how tough and vicious the Japanese ladies can be.
Ariel donned a mask and wrestled as Arianna in Mexico in 2004. Here she shows a mean streak as she batters Nikki Roxx during a brutal chain match.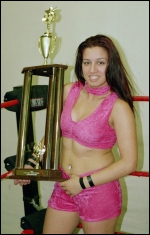 Ariel proudly poses with her G.L.O.R.Y. Championship Trophy which she won at G.L.O.R.Y.Con 2004.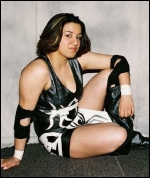 Ariel in her famous black and white spider gear.
Ariel's Stats...
Height:

5' 2"

Weight:

130

Hair:

Brunette

Eyes:

Brown

Hometown:

Boston, Massachusetts (USA)
Ariel's Profile...
How It Started:

I had always been a fan of wrestling. There was just something about the business that intrigued me and my brother Nuno. We decided to join a local wrestling school after watching independent shows for about two years after moving to America. After joining, it was like a dream come true. I still love every minute of it to this day. I try to learn as much as I can from everyone. I try to be like a sponge, as people say. Originally, I came into the business as a valet, but my real goal was to be a wrestler. My very first match was against Amanda Storm. After wrestling her, I knew this was what I wanted to do. I was hooked!

Gimmick:

Think PowerPuff Girl. Sugar & spice & everything nice...on a good day. On a bad day, think

Mighty Morphin Ghetto Girl

...exactly how it sounds! Don't mess with me. : )

Wrestling Style:

I'm definitely a mix of styles...mainly technical with occasional high flying. Recently, I have become more aggressive which is bringing me into the brawler category, also. I pretty much just do whatever it takes to get the job done.

Gear:

I have one of the shortest attention spans ever so it changes often. I don't even have any particular trademark colors. I just wear whatever I think is pretty and suits my mood/style that day. I do however have a particular gear type that not many girls have and thats the flaps with the random designs.

Titles Held:

G.L.O.R.Y. Championship; JWA Women's Title; NWA-NJ Women's Title; NWA-NJ Female Tag Title; NWA-NJ Men's Tag Title; BWA Women's Title; SSCW Women's Champ; IWA-MidSouth Women's Champ; LLF Juvenil Title; DDW Women's Champ.

Biggest Win:

Anytime I make someone's day it's a big win for me. Winning the G.L.O.R.Y. title was a big deal for me. I was very happy to be a part of G.L.O.R.Y. and always have been, so winning the title meant a lot. Also, winning the LLF Juvenil title was definitely a career highlight for me.

Worst Loss:

Any loss is a bad loss. That's the way I look at it.

Favorite Type of Match:

Intergender tags.

Favorite Moves/Holds:

My favorite moves are suplexes: Fisherwomen's Suplex (a.k.a. Perfect Plex), Northern Lights Suplex and Snap Suplexes. I also love bulldogs, and various fast maneuvers like arm drags and moves of that sort. I am a big fan of fast-paced wrestling action and bridging moves.

Finisher:

"Dariel"

...variation of the Diamond Cutter.

Biggest Allies:

Nikki Roxx; Brenndan Michael Thomas *BMT*; Kid Mikaze.

Most-Hated Enemies:

Whoever is in the way of what I am trying to accomplish could be considered an enemy. I am a big believer in going for what you believe in and not letting anyone stand in your way, no matter who they are. Hated enemies though? None really..."hate" is too strong of a word for me.

Toughest Opponent(s):

Nikki Roxx; Tsunami; Malia Hosaka; Amazing Kong.

Career Highlight:

Being given the opportunity to show my ability overseas in Japan and Mexico. I can't even describe how great of a time I had. Working with Dawn Marie and Simon Diamond was a very rewarding experience for me. Winning the G.L.O.R.Y. title was a very big honor for me. I have been a big fan of G.L.O.R.Y. so to be able to fight for their championship was great. Winning was unreal.

Favorite Wrestlers:

Female-wise: Molly Holly...hands down. I am also a big fan of Alexis Laree, Lita and Alundra Blayze. Male-wise: Bret Hart is my favorite of all time. He is so awesome! Also: Shannon Moore; Billy Gunn; Triple-H; Shelton Benjamin; Kurt Angle; Hector Garza; Eddie Guerrero; Rey; Amazing Red.

Wrestling Ambition:

To go as far as I can in the wrestling business. I want to wrestle as much as I can and in as many places as I can. I want to travel the world while having fun wrestling. I will wrestle for as long as my body will allow me. Also very important is that I stay true to myself...no matter what happens.
Ariel's Personal Notes...
Well...where to start? Honestly, I try to keep personal stuff out of my wrestling related work due to the fact that I learned the hard way that you have to be careful who you trust. But then again, I realize it's like that in everything...not just wrestling. None the less, let me tell you about myself.....I have pretty much made wrestling my top priority since about sophomore year in high school. A lot of things I do involve wrestling and most of my friendships originate from wrestling.....I am just a big kid! Anyone who knows me, knows that I am like that. I am amused by the smallest things and I always want to have fun. If you're not having fun, you shouldn't be doing it.....I love cartoons such as Carebears, PowerPuff Girls, Family Guy and The Fairly Oddparents.....WB's soap opera-type shows are some of my favorites, too. I love watching Cane and America's Next Top Model.....I always say "Keep Smiling!" to people because I want everyone to be happy.....Pink is my favorite color.....I have a wonderful family who supports me in every way possible. They may sometimes be mad about little things, but overall they all have the greatest faith in the world. I am blessed to have some very supportive people in my life. ***You guys know who you are!*** Friends include Liz, Lil' Nikki, Nikki and, of course, my Alvin. I love singing and dancing...even though I suck at both and won't do them in front of people!.....I always do my best and hope for the best. I am a believer of "everything happens for a reason" and that your destiny is built by what you do and your decisions in life. So whatever happens out of all this, it was meant to be and I don't want any regrets. Now I will stop preaching!
This year I lost the most important person in my life and it has been hard. Wrestling keeps me kinda sane so I don't drive myself crazy thinking about her. That's one of the reasons I'm so thankful to do what I do. Thank you for that, guys. She was very proud of me and I will continue to do her proud to the best of my ability. Heaven gained a new angel. I just wish she was right here by my side instead.
Thanks for reading. Thanks for the support. Any and all suggestions are welcomed...