Picture Of The Day for September 11, 2008
Annie Toughs It Out...With A Little Help From April!
Yesterday we watched as Annie Social took a deliberate, vicious beating from fellow G.L.O.R.Y. Girls Haley Rogers and Danyah during the most-recent WEW event in Philadelphia, Pennsylvania. It probably wouldn't have ended very well for Annie if she hadn't gotten a little help from her friend and partner, April Hunter.
Despite the beating she had already taken, Annie was able to make the tag and get Hunter into the action. April's help was exactly the boost that Ms. Social needed. As Annie climbed outside the ropes for a much-needed break, April swung into action with a stiff kick to Roger's lower belly. Looks like that boot knocked every last ounce of breath out of the Canadian!
That small break was all that Annie needed to regain her composure...and stoke her need for revenge! Begging to be tagged back in, Annie went right after her main rival Rogers. Backing the bigger girl against the turnbuckles, Social gave her a taste of her own medicine (below) as she clamped her hands around the brunette's throat and choked away...an obvious payback for the strangling attack that Ms. Rogers used just minutes earlier.
Danyah's attempt to come in and swing the momentum of the match back towards her team didn't quite work out the way she expected. Instead of doing damage to the native Philadelphian, it was the curly-haired Canadian who was quickly wide-eyed and screaming as Annie laid on agonizing leg-lock. One look at Danyah's face tell you how effective the hold was!
In the end, even though she took a heck of a beating, it was Annie Social whose arm was held aloft in victory by friend and partner April Hunter. With Big Red's retirement from the ring, we will probably not see this team back in action again. But, oh...what might have been if they were able to continue working together consistently inside the ring ropes!
Photo:
Wrestlin' Wally
Bonus POD!
Picture #2
Bonus POD!
Photo:
Wrestlin' Wally
Bonus POD!
Picture #3
Bonus POD!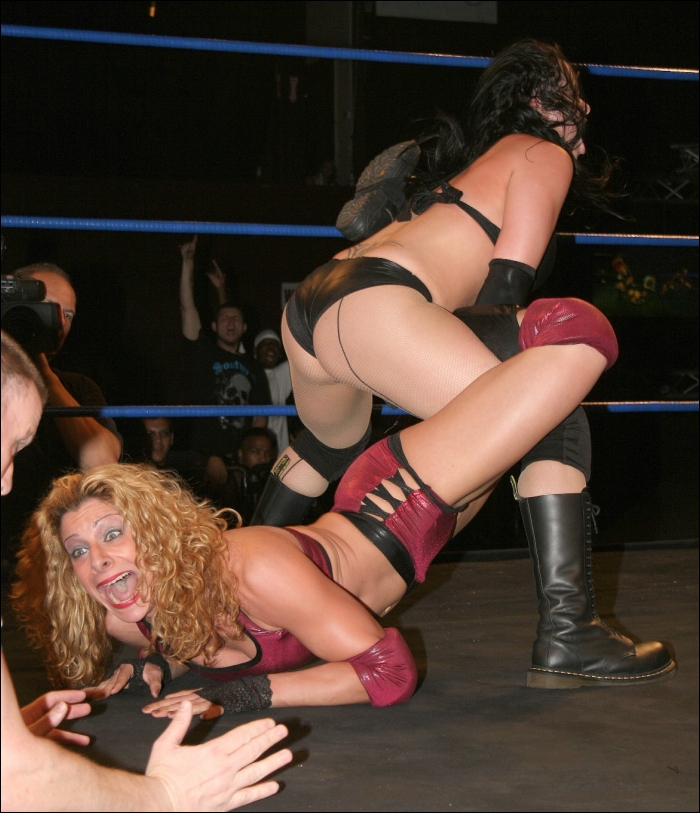 Photo:
Wrestlin' Wally
Bonus POD!
Picture #4
Bonus POD!
Photo:
Wrestlin' Wally