Picture Of The Day for September 10, 2008
Annie Social: Maybe
Not

The Way You'd Like To See Her

Lately on the G.L.O.R.Y. Message Board, some Annie Social fans have been praising the G.L.O.R.Y. Girl and posting some links to YouTube videos featuring matches of the Philly tough girl. Today, we bring you some action from a WEW match held earlier this summer when Annie and April Hunter faced Haley Rogers and Danyah...but the action might not be to the liking of those Annie fans.

Seems that Ms. Social took quite a beating in the match, as the strategy of her Canadian opponents was obviously to isolate her from her partner and pound her to a pulp! But it was Haley Rogers (a.k.a. Cat Power) who seemed particularly vicious in dealing with Social. After this double-clothesline flattened Annie, Haley cornered the brunette and went to work.

A hard choke against the turnbuckles (below) took the breathe out of poor Ms. Social well before the referee could break the hold. Next, Rogers added some fists to the body. Take a look as she keeps up the choke while blasting away with roundhouse rights into the trapped girl's wide-open midsection. Even after dropping Annie to her knees--the result of a vicious blow to the windpipe--Rogers is already moving in for her next attack on the leather-clad hometown girl.

What next for Annie? We'll check it out tomorrow...

Photo:
Wrestlin' Wally

Bonus POD!

Picture #2

Bonus POD!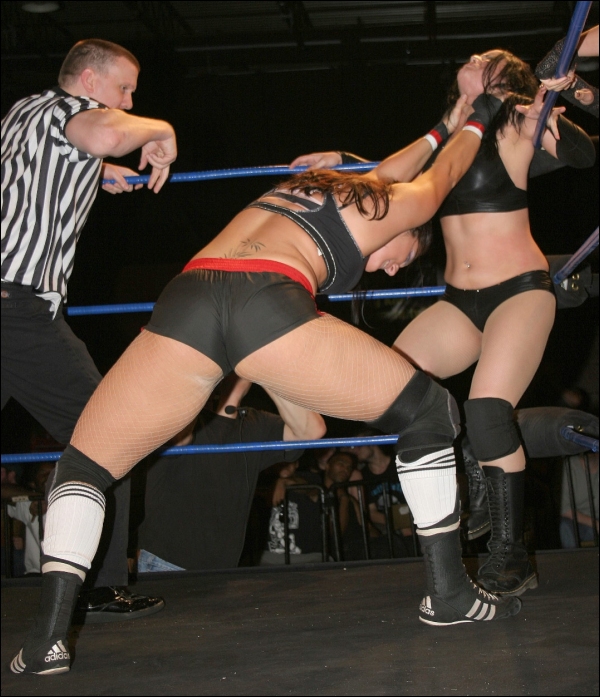 Photo:
Wrestlin' Wally
Bonus POD!
Picture #3
Bonus POD!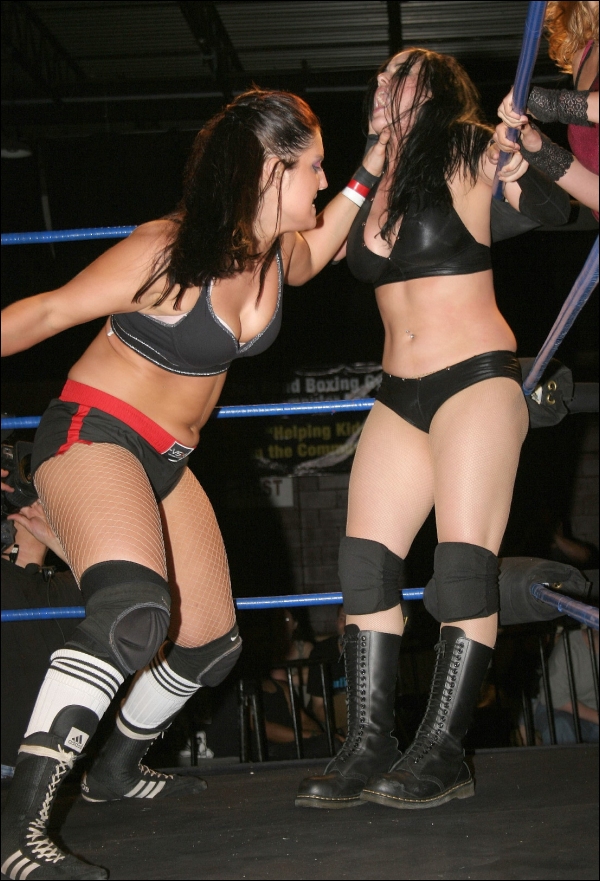 Photo:
Wrestlin' Wally
Bonus POD!
Picture #4
Bonus POD!
Photo:
Wrestlin' Wally