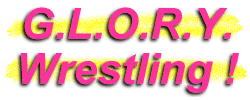 Annie Social
Wrestler
She was a boxer and martial artist as a kid. She was recruited to wrestle while working at a bar. She has modeled for numerous glamor magazines such as Maxim. It's true that Annie Social's path to the pro wrestling ring was not the usual route taken by most athletes...but now that she's here she is making the most of her opportunity. Social has been brawling and fighting all across the East Coast the past few years...and when we say brawling, we mean it! Annie is much more comfortable inside those ropes using punches, kicks and chokes than exotic, high-flying moves. You know, that's really not very social of her...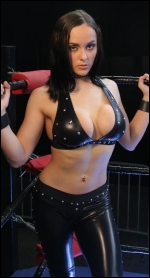 The sexy and tough Annie Social!
Annie stomps away at her opponent.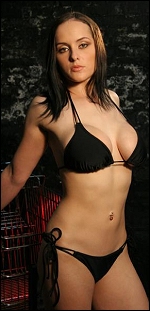 Some might find it hard to believe that this gorgeous lady could be a pro wrestler...
but not us!
Annie pounds a flurry of fists into Jana's chest.
Annie Social's Stats...
Height:

5' 3"

Weight:

130

Hair:

Black

Eyes:

Hazel

Hometown:

North Killadelphia, Pennsylvania (USA)
Annie Social's Profile...
How It Started:

I was discovered by Dan Kowal, formerly of WEW, while working at a bar in center city. He asked if I wanted to oil wrestle and I agreed. After a few years, I decided to train to wrestle professionally. I went to PWU's Animal House. My trainers were Trent Acid, Gary Wolf and Mike Kehner. I owe these men a great deal of gratitude. I didn't really watch wrestling growing up. I was raised on boxing. My father was a huge fan. I actually boxed and took martial arts as a child, so I guess I've always been a lil' scrapper! Once I started wrestling, I fell in love with it. It's the only thing I do in my life that feels right.

Gimmick:

I'm a bit of an outcast. I don't have many friends, because if a friend comes between me and the win, they're catching a beat down.

Wrestling Style:

I use a variation of strikes and cute flips, basically whatever gets the job done. I don't mind fighting dirty when I need to.

Gear:

I usually rock a wife beater and bdus. That's the most comfortable outfit to beat an ass in. Sometimes I'll wear something cute, if I feel like it.

Titles Held:

I'm a two-time WEW Tag Champion. I've also been the PWU Women's Champion and the ACPW Women's Champion. I really don't need a belt to prove that I can wreck shop.

Biggest Win:

My PWU Championship win over Amy Lee. My tactics were very sneaky, but they worked.

Worst Loss:

My PWU Championship loss to Cindy Rogers. I had a short-lived reign as champ. It was a bit of a bummer!

Favorite Type of Match:

I love mixed tags and intergender matches! It's a lot of fun to show that you can hang in there with the guys.

Favorite Moves/Holds:

I like to punch and choke. It's very effective.

Finisher:

"The Social Disorder"

(modified stunner);

"The Beatdown"

(modified code red).

Biggest Allies:

April Hunter; Sumie Sakai; Roxie Cotton.

Most-Hated Enemies:

I'm an equal opportunity hater.

Toughest Opponent(s):

Mickie Knuckles; Sara Del Rey.

Career Highlight:

Competing in the 2008 WXW Elite 8 Tournament. I made it all the way to the end...only to be defeated by Cindy Rogers. Cindy is an excellent opponent!

Favorite Wrestlers:

Too Cold Scorpio; Hayabusa; Sumie Sakai; Mickie Knuckles; Ian Rotten; Devon Moore; Trent Acid; Teddy Fine; Detox; Mick Foley; Rey Mysterio.

Wrestling Ambition:

I'll take this business as far as it will take me.
Annie Social's Personal Notes...
I'm just a hard working girl from Philadelphia trying to have fun doing what I love. I've been through a lot and I'm still here! I plan on being around a long time.
Essential Annie Social Links...