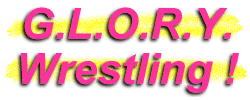 Haley Rogers
a.k.a. Cat Power (at SHIMMER)
Wrestler
After just a few short years in the ring, Haley Rogers has created a buzz among fans of the North American women's wrestling scene. Originally making a name for herself in the rings of Ontario, Canada, Rogers had a breakout year in 2008 when she began invading U.S. arenas. American fans quickly took to the skilled (and often times very cocky) grappler. Some fans know her as Haley Rogers...others may know her as Cat Power. But one thing is certain: It won't be long before this talented lady is well-known by everyone!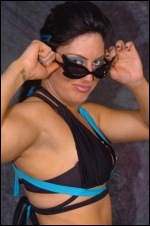 Haley Rogers certainly doesn't lack when it comes to attitude...she's got plenty!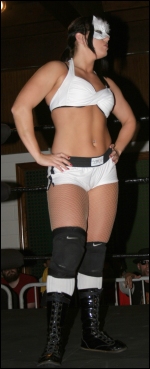 In SHIMMER matches, Haley is known as Cat Power.
Rogers clamps a tight headlock on Serena Deeb.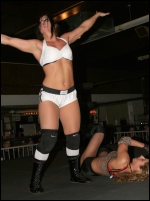 Okay...so maybe Rogers does get a little too cocky in the ring!
Rules? What rules? Haley Rogers doesn't care about any stinking rules!
Haley Rogers' Stats...
Height:

5' 10"

Weight:

145

Hair:

Black

Eyes:

Green

Hometown:

Hotlanta, Georgia (USA)
Haley Rogers' Profile...
How It Started:

I have a brother who is five years older than I am and I thought he was really cool. Because I wanted to be cool like him, I did what he did...and he watched wrestling! I watched it since I was three years old and went to all the live events that came to my hometown. Then when I was 17, I achieved one of my dreams: to attend a Wrestle Mania. Wrestle Mania 18 was in Toronto and my friend and I flew to Toronto and sat in the nose bleeds just to say we were there. I got home from Wrestle Mania and that is when I decided that as cool as it was to sit among 70,000 people,

it would be AMAZING to be in front of 70,000 people!

Gimmick:

I'm a cocky babyface and an even cockier heel. When I'm babyface, I like to come out and fire up the crowd and make fun of my opponent. As a heel, I LOVE to antagonize the crowd

and still make fun of my opponent!

Wrestling Style:

I like to mix it up when I can. While I don't hit the top rope too often, I try to mix technical wrestling with a few high flying moves here and there for something a little flashier. I'm also not adverse to bending the rules from time to time.

Gear:

Black and blue with my new cat and cross bones symbol.

Titles Held:

Pro Wrestling Xtreme Women's Championship.

Biggest Win:

My biggest win came when I defeated Danyah in front of about 750 people at the North Sydney Forum in North Sydney, Nova Scotia, in September of 2008. That's where I used to go watch wrestling when I was a kid and to go back there and actually wrestle was an amazing feeling!

Worst Loss:

My worst loss came in Techumseh, Ontario, when I was defeated by Danyah after she kept deliberately using special guest referee Jamie D to help her in the match. Jamie finally had enough and choke slammed me and counted the three for Danyah.

Favorite Type of Match:

My favorite type of match is a good, hard hitting singles contest or intergender match.

Favorite Moves/Holds:

Side Russian leg sweep; double knees in the corner; bulldog; monkey flip.

Finisher:

Flatliner; figure-four leg lock.

Biggest Allies:

I don't really have any allies in the squared circle. They always seem to turn on me if I get too close to people.

Most-Hated Enemies:

Anyone whose turns on me better watch their backs!

Toughest Opponent(s):

Nikki Roxx; Serena Deeb; PJ Tyler.

Career Highlight:

Wrestling in front of family and friends in North Sydney, Nova Scotia, was for sure a highlight so far. Getting to wrestle with my trainer Tyson Dux against Dangerboy Derek Wylde and Jennifer Blake in PWX was a great experience and one I'd LOVE to do again!

Favorite Wrestlers:

Tyson Dux; Edge; Christian; Rowdy Roddy Piper; Bret Hart; Johnny Devine; Shawn Michaels.

Wrestling Ambition:

To get as much experience as possible in all different areas and aspects of wrestling, and to one day be able to make a living out of doing what I love to do.
Haley Rogers' Personal Notes...
When I'm not training, saying my prayers and taking my vitamins, I watch old wrestling tapes.....I have three tattoos: one is bamboo with the Chinese symbol for my name in the middle, another is a black maple leaf with a green clover in the middle, and, finally, the word "fighter" on my right wrist.....I hate being at home too long. I get bored and start to go stir crazy after a while! So I really love being on the road, traveling and meeting new people.
Haley Rogers Video