Picture Of The Day for June 25, 2008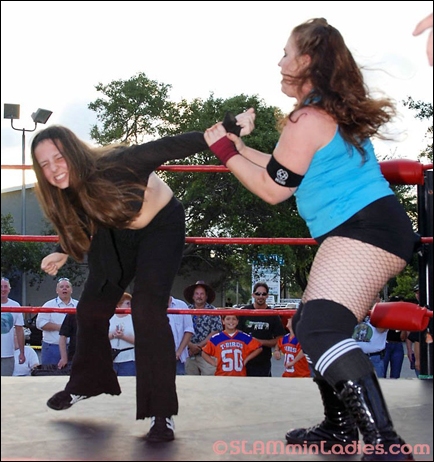 ICWF DivaMania
The fans in Florida were treated to a spectacular show last month when ICWF hosted their first all-ladies show, DivaMania. Those who attended witnessed a ton of great action that featured many G.L.O.R.Y. Girls, as well as quite a few names and faces. The good news for those who did not witness the event: the DVD is now for sale at SLAMminladies.com! A special bonus picture disc is also included in this great package. See the website for ordering details. And if you are lucky enough to be a member of SLAMminLadies you can now check out the full picture gallery of the event on the site. In the meantime, let's look at some of the action!
First up: G.L.O.R.Y. Girls Kacee Carlisle and Ferrari. This was their first meeting since Ferrari moved to Florida and it wasn't a happy one for the Buffalo-transplant. Here you can see the pain etched in Ferrari's face as Kacee tries to twist that left arm right out of its shoulder socket.
Bonus POD!
Picture #2
Bonus POD!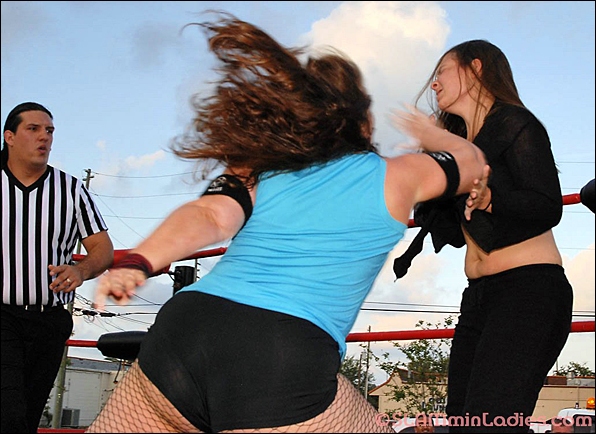 Chopping Down Ferrari
The last time we saw Ferrari here on the Picture Of The Day, she was looking hardcore...posing with a barb-wire wrapped hunk of wood in her smokin' hot black bikini. Apparently, that posturing had no effect on Ms. Carlisle as she took the fight right to her opponent. Here, Kacee rocks Ferrari with a series of wicked chest chops that back the Floridian into the corner turnbuckles.
Bonus POD!
Picture #3
Bonus POD!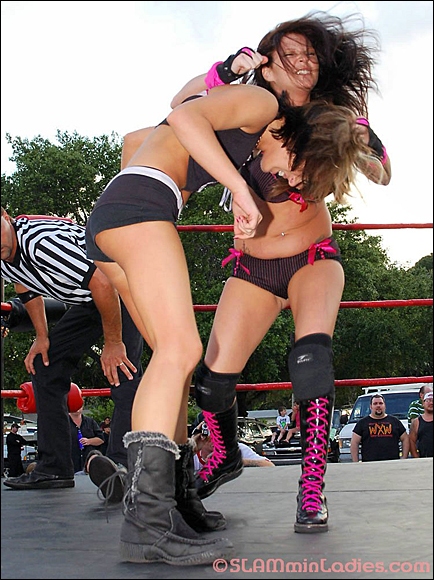 Fantasy vs. Stephanie Starr
There was no holding back when these two rivals hit the ring...especially on the part of G.L.O.R.Y. Girl Fantasy! No fancy technical maneuvering on the part of Fantasy was on display early in the match. The ring veteran simply hammered away at her opponent, rattling her with a series of forearm smashes to the spine and upper-back.
Bonus POD!
Picture #4
Bonus POD!
This Can't End Well For Starr!
What a precarious position to be in! Ms. Starr can do little as Fantasy hooks her arms and lifts her off her feet...vertical to the mat and upside down. With all the blood rushing to her head, Starr fights to stay oriented much less counter the maneuver. From here, things can only get worse for Stephanie. Maybe she's going to be pancaked face-first to the mat. Fantasy may jackknife her down with a powerbomb. Worse still, Starr may become the victim of a lights-out piledriver!
More ICWF DivaMania action tomorrow...