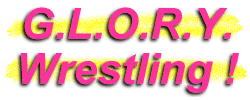 Kacee Carlisle
Wrestler
You're not going to see Kacee Carlisle climbing to the top turnbuckle, flying through the air or launching herself off the ring ropes anytime soon. The tough Mid-Atlantic wrestler is not in the ring looking to win any acrobatic contests. She's in the ring to beat the crap out of somebody! So forget the frog-splashes and 450-degree flips. You won't find them in Kacee's arsenal of weapons. Instead, you'll find plenty of forearm smashes, DDTs, suplexes, clotheslines and other bone-shattering moves designed to beat up and devastate whoever dares to step into the ring against her!
Kacee Carlisle poses with one of her several championship title belts.
Kacee is one of the more powerful ladies on today's indy scene.
A brutal camel clutch nearly snaps Josie's back...
...and a vicious boston crab almost does the same to Jana!
A confident Kacee heads to the ring.
Power, athleticism and beauty--mixed with a healthy dose of confidence--makes Carlisle one of the most promising ladies in the women's division of the sport.
Kacee Carlisle's Stats...
Height:

5' 3"

Hair:

Light brown

Eyes:

Blue

Hometown:

San Francisco, California (USA)
Kacee Carlisle's Profile...
How It Started:

When I was 8 years old, my sister was watching TV and called me in to watch with her. She was watching wrestling, and I was amazed by it the moment I saw it. My sister grew out of it about three weeks later, but I still haven't stopped loving it! In 1997 I went to an indy show in Dale City, Virginia and met one of the wrestlers, Shorty Smalls. He ended up training me to be a manager, then later, a wrestler. And now, here I am! I used to dream of being a wrestler...and now I'm getting to live that dream!

Gimmick:

I'm an obnoxious, loud, annoying pain in the butt who loves to beat people up and run my mouth. I have no problem telling the fans, and my opponents, just what I think of them. But of course, I try to be cute doing it!

Wrestling Style:

My style of wrestling is old school. I like doing power moves and some brawling, if needed. I don't leave my feet all that often, though I'm trying to incorporate more moves from the ropes into my arsenal.

Gear:

My taste changes every few weeks, but I'm usually in black shorts, fishnets and a fun top.

Titles Held:

NWL/HoPWF Women's Championship; UCW Women's Championship; WXW Women's Championship; PWE Women's Championship.

Biggest Win:

Winning my first title was definitely a highlight and something I won't forget. It was also a cool moment for my parents to see me wrestle for the first time.

Worst Loss:

Any loss is horrible, but my loss to Mercedes Martinez in the finals of the 2006 WXW Elite 8 was especially bitter. All that just to get beat!

Favorite Type of Match:

I'm usually in singles matches, and that's what I prefer. I like a slower paced, more "old school" style match. My matches are usually more methodical than flashy most of the time.

Favorite Moves/Holds:

I usually use clotheslines, elbows, suplexes, kicks, chops--whatever puts the hurt on my opponent and helps me get the victory.

Finisher:

I normally use a modified STF or a facebuster.

Biggest Allies:

Shorty Smalls; Chuckie Manson; Deuce Donatelli.

Most-Hated Enemies:

Without a doubt, Amy Lee, Discord and Ferrari are my biggest enemies!

Toughest Opponent(s):

All of my opponents have been tough, but I have to say Mercedes and Amy Lee were the toughest. Discord has also been a big thorn in my side. That girl just doesn't back down.

Career Highlight:

Being invited to participate in the 2006 Elite 8 was awesome, and I never thought I'd get to the final round. That definitely ranks up there. Getting to travel to different states and wrestle is a big highlight. I like seeing what the fans are like in different parts of the country. Really, any time I get to step into the ring and do what I love, I'm happy.

Favorite Wrestlers:

My favorite wrestler when I was a kid was Brutus Beefcake. As I got older, my favorites became Shawn Michaels, Bret Hart, HHH and Edge.

Wrestling Ambition:

My goals are the same as everyone else: to go as far as I can. I've mostly accomplished what I started dreaming about all those years ago, and hopefully I'll keep learning and become a great wrestler. In the end, I just want to be able to walk, have lots of fun, and hopefully have some great friends I met along the way.
Kacee Carlisle's Personal Notes...
I feel so lucky that I get to be doing what I've wanted to do as a kid. I think most people thought it was a phase, but by now I'm sure they realize they were wrong!.....I love animals and I love nature....I enjoy taking pictures of anything and everything, especially flowers, trees, the sky, cats, bugs and my family....I try not to judge people without getting to know them, and would want everybody to do the same for me.....My favorite colors are blue, hot pink, black, white and red....My favorite sitcom is That 70s Show!.....My favorite band is HIM....I have three nieces who are sometimes at shows with me, and they rock.....I hate scary movies!.....I love my family very much and see my parents and brother several times a week....that's it I guess!
Essential Kacee Carlisle Links...