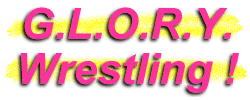 Ferrari
Manager
In less than three years Ferrari has already helped her man, Marc Mandrake, capture gold in Old School Professional Wrestling, the National Wrestling League and the Pure Wrestling Association. Ferrari has also started wrestling...and has now logged over 20 matches in her career. More experience will only mean more success for this tough lady!
Ferrari: looking fine!
Ferrari celebrates with a bloodied Marc Mandrake.
Ferrari often steps through the ropes to do battle. Here she tries to break Danyah in half!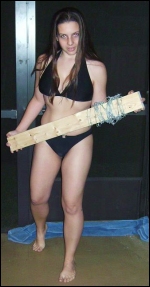 Hardcore Bikini!
Black bikini plus barbed-wire 2x4 equals a sexy and vicious G.L.O.R.Y. Girl!
Ferrari feels the squeeze of a tight side-headlock.
Ferrari's Stats...
Height:

5' 4"

Weight:

150

Hair:

Brown

Eyes:

Brown

Hometown:

Tampa, Florida (USA)
Ferrari's Profile...
How It Started:

I used to watch WWF when I was little, but I really got into it when my younger brother started watching WCW in 1998/1999. I was totally into the luchadors! I got into WWE right about the same time the McMahon-Helmsley era started. In January of 2003, I went with my dad and my brother to an independent show and I got totally hooked on the indies...in fact, that's when I decided I wanted to get into wrestling somehow. I started talking to Marc Mandrake and we became friends. He started training me and taking me on the road with him. He's helped me out so much, I can't thank Marc enough!

Gimmick:

I cheer for whichever wrestler I'm out there to support. Sometimes I bring hardcore "toys" (like thumbtacks hidden in my jacket pocket) for them to use. I've become a lot more involved in the matches, including giving moves like DDTs and taking Rock Bottoms and Death Valley Drivers. I've also started wrestling, which is basically just an extension of my managing gimmick.

Outfit/Costume:

Face manager: Torn jeans, a black wifebeater and a bandanna. Heel manager: I dress like Stephanie McMahon or Trish Stratus...a lot of black with my hair in a high ponytail. Wrestling: Black wifebeater, torn jean shorts, kneepads and amateurs, with my hair in pigtails and a bandana.

Manager Of:

Marc Mandrake.

Have Managed:

Mana the Polynesian Warrior; 21st Century Fox; Ian Decay; The Blue Meanie.

Biggest Allies:

Marc Mandrake...otherwise it varies.

Most-Hated Enemies:

Chris Halen; Eddie Osbourne; Shorty Smalls; Kacee Carlisle.

Career Highlight:

Everything I've done so far has been so mind-blowing and awesome! Managing Mana the Polynesian Warrior was a great learning experience and a lot of fun. I've had a great time honing my managing and wrestling skills, and have learned TONS from wrestling women like Stacy Hunter, Missy Sampson, AmyLee, 21st Century Fox and all the others. I also had the opportunity to wrestle on live TV for WXW against Kacee Carlisle...definitely amazing and a huge learning experience!

Favorite Wrestlers:

Marc Mandrake; Randy Walker; Missy Sampson; Ariel; 21st Century Fox; Alere Little Feather; Phil Latio; Mana the Polynesian Warrior; Jeff Hardy; Matt Hardy; Trish Stratus; Carlito; and many more.

Wrestling Ambition:

I love wrestling. I just want to go as far as I possibly can with it. I want to be involved in wrestling as often, as much, and for as long as I can.
Ferrari's Personal Notes...
I am now graduated from college with an Associate's degree in Animal Management.....Marc Mandrake and I have moved to Tampa, Forida with our two pets: a dog named April, and a cat named Cinder....Favorite animal: white tiger.....Favorite color: black.....Music I listen to: Anything and everything! I listen to classic rock, pop, rap, country, and alternative rock.....I have a ton of favorite movies ranging from stupid funny to totally gross and scary, everything from Finding Nemo to the Saw series.....Favorite holiday: Halloween! I will never be too old to dress up!
Latest Ferrari News...
Living in Tampa, FL now...hoping to hook up with lots of wrestling down here! I am also working hard in the gym everyday. Soon to come: pictures of the new and improved Ferrari!
Essential Ferrari Links...