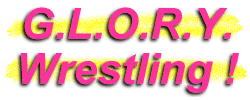 Fantasy
Wrestler
Fantasy may be just 4' 11" tall and weigh-in at only 105 pounds, but there is a lot of heart, talent and determination packed into this tiny professional wrestler! Toughness is the first word that comes to mind when discussing Fantasy. This beautiful and sexy dynamo wrestled on her junior high school team as she dreamed about making it in the pro ranks. Once out of school, she was determined to show her doubting family and friends that she could make it--and make it big--in the world of grunt and groan. And now she is doing just that!
Fantasy!
Fantasy is an intense competitor.
It's easy to see why this lady is called "Every Man's Fantasy"!
Fantasy takes punishment in a mixed match against a much bigger male opponent!
Fantasy's Stats...
Height:

4' 11"

Weight:

105

Hair:

Red/Dark Brown

Eyes:

Blue, Green, Carmel

Hometown:

Chatanooga, Tennessee (USA)
Fantasy's Profile...
How It Started:

Well, I wrestled in junior high and high school, and I always wanted to be a pro wrestler as a child. I grew up with four older brothers so I was always getting beat up by them. They made me tough and taught me how to take up for myself. After high school and some college, I still wanted to be a pro. When I went to a show and asked about training, they told me I probably wasn't tough enough to handle training. I just said, "OK...you'll see!" Well, here I am still loving every moment I'm in the ring!

Gimmick:

I'm every man's Fantasy and every woman's nightmare! That pretty much sums it up!

Wrestling Style:

Wow...I think I fall into a lot of catagories! I'm a high flyer and a technical wrestler. I love Old-School. And I tend to be a rule-breaker! lol.

Gear:

That kinda depends on what mood I'm in...but it's always sexy!

Titles Held:

There have been so many, but a few have been: TWA Heavyweight Championship; GCW Women's Championship; PCW Tag Team Championship; TWA Hardcore Championship.

Biggest Win:

That comes down to two matches: First, winning over AJ Styles. Second, becoming GCW's very first Women's Champion.

Worst Loss:

Against Luna Vechion. I wore bruises and bite marks for two weeks!

Favorite Type of Match:

Anything but catfights...I'm a wrestler.

Favorite Moves/Holds:

Moonsault; Frankensteiner off the top rope.

Finisher:

"Fantasizer" (Frankensteiner off the top rope).

Biggest Allies:

Star; Lexie Fyfe; Luna; Bambi; Bobcat; Malia Hosaka; Hellena Heavenly; Angel Williams.

Most-Hated Enemies:

Rock 'N Roll Roxy.

Toughest Opponent(s):

Luna; Malia Hosaka.

Career Highlight:

Being named Georgia's 2006 Female Wrestler Of The Year under the name Amy Young/Fantasy.

Favorite Wrestlers:

I really don't have a single favorite. I respect them all!

Wrestling Ambition:

I want to wrestle for TNA and go as far as life will take me!
Fantasy's Personal Notes...
Well, I'm a mother of two wonderful children: a beautiful daughter named Ashley and a handsome son named Taylor. When I'm not on the road traveling to shows, they're keeping me busy!.....I have a boxer named Xander.....I love having fun and living life day by day.....I listen to all types of music.....My all-time favorite movie is The Notebook.....I'm an outgoing person and I can get along with anyone.
Essential Fantasy Links...