Picture Of The Day for June 30, 2011
Even More WSU Action: Sassy Vs. Rain!
Super-fan Ed Darcey continues to fill us in on the action that was Saturday night's WSU all-star extravaganza. Today: Rain takes on Sassy Stephie...
One of the more intriguing matches on WSU's most recent event was the first match of the evening. While many promotions start off the evening with what is euphemistically called a "curtain raiser", that is often not the case with WSU. Their opening contest on this occasion was for its Spirit Championship, pitting its newly minted champion, Sassy Stephanie, against ring veteran and major thorn in the side to many WSU combatants, Rain!
While one might question why a wrestler of the obvious expertise, talent and track record of Rain would be vying for the Spirit Championship, the grappler realized there well might have been skeptics about her credentials to compete for a "spirit" title. Before the match began there was an impromptu, by both women, display of dance/cheerleader moves one might expect from a "spirit" competition. While no one was particularly surprised that Stephanie seemed to be hip to the underlying motif of the title, Rain was more than up to the challenge of showing she was cognizant of it as well. The little dance/spirit off that proceeded the match was both amusing and a credit to Rain who more than held her own, producing a shimmy that was unforgettable.
However, forgetting that shimmy was what Stephanie should have done as Rain came out firing. The veteran of many battles with the elite competitors world wide was at her most professional best throughout most of the match. She trapped Stephanie in numerous holds where Rain was able to drive home strikes by both her knees and her forearms to Stephie's back and chest, keeping the Ohioan totally on the defensive. Stephanie fought back with clotheslines and flying assaults to the head of the native Minnesotan, but just when it appeared Stephanie might gain the upper hand, the sly veteran Rain would turn the tide and regain the momentum.
Towards the end of the match, Rain caught Stephanie in a front lung blower, one of her patented moves. A stunned Sassy was able to avoid both that pin attempt and the ensuing sharpshooter/Texas cloverleaf submission hold. A frustrated Rain then hit her rear lung blower and rolled Stephanie over for what most spectators assumed would be the coup de grace, but again the Spirit Champion kicked out. When an exasperated Rain went for another impact maneuver an alert Stephanie spun her around and hit her own finisher which involves driving her opponents head, neck and back against Stepanie's knee and shin and stunning her opponent. Rain was felled by this maneuver and rolled up and pinned. Surprisingly however, her in-ring work and eschewing of foreign objects, as well as her performance before the match, won over many fans who had previously only seen her as the leader of "Rain's Army" that at one time had included only villains such as Amber O'Neal, Jessicka Havoc and the chameleon-like Nikki Roxx. Are we seeing a new Rain or is this just another opportunistic transformation that will lead to another run at the top by one of the ultimate rule breakers? Only time will tell.
Photo:
Ed Darcey
Bonus POD!
Picture #2
Bonus POD!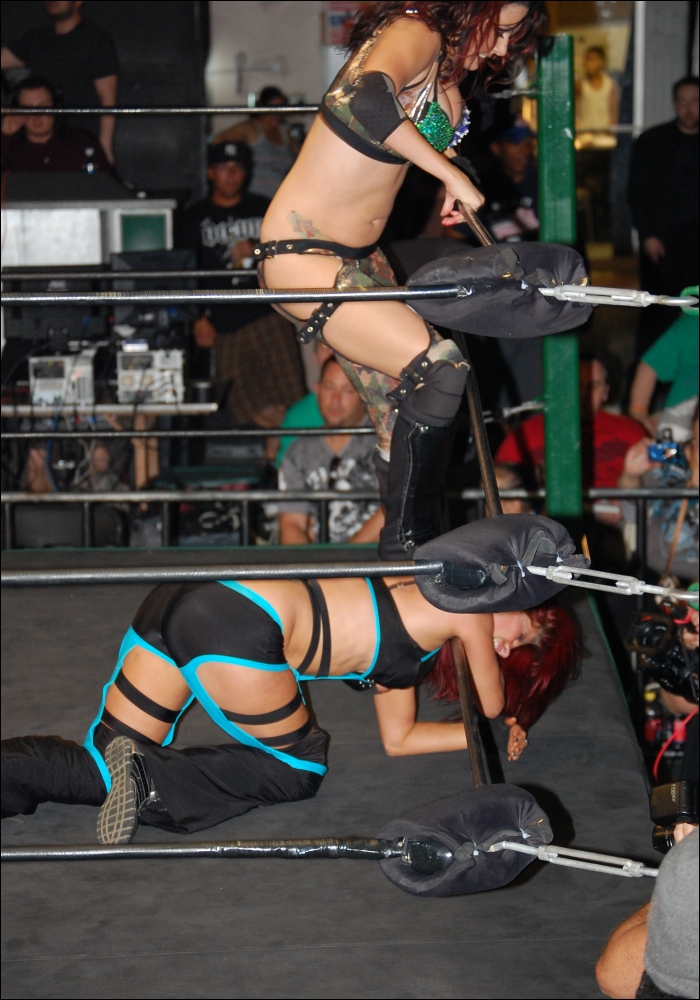 Photo:
Ed Darcey
Bonus POD!
Picture #3
Bonus POD!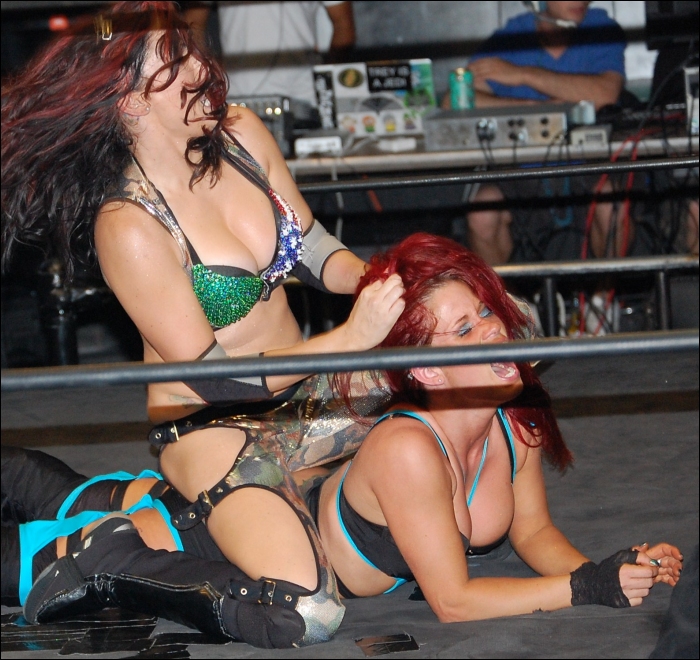 Photo:
Ed Darcey
Bonus POD!
Picture #4
Bonus POD!
Photo:
Ed Darcey
Bonus POD!
Picture #5
Bonus POD!
Photo:
Ed Darcey
Bonus POD!
Picture #6
Bonus POD!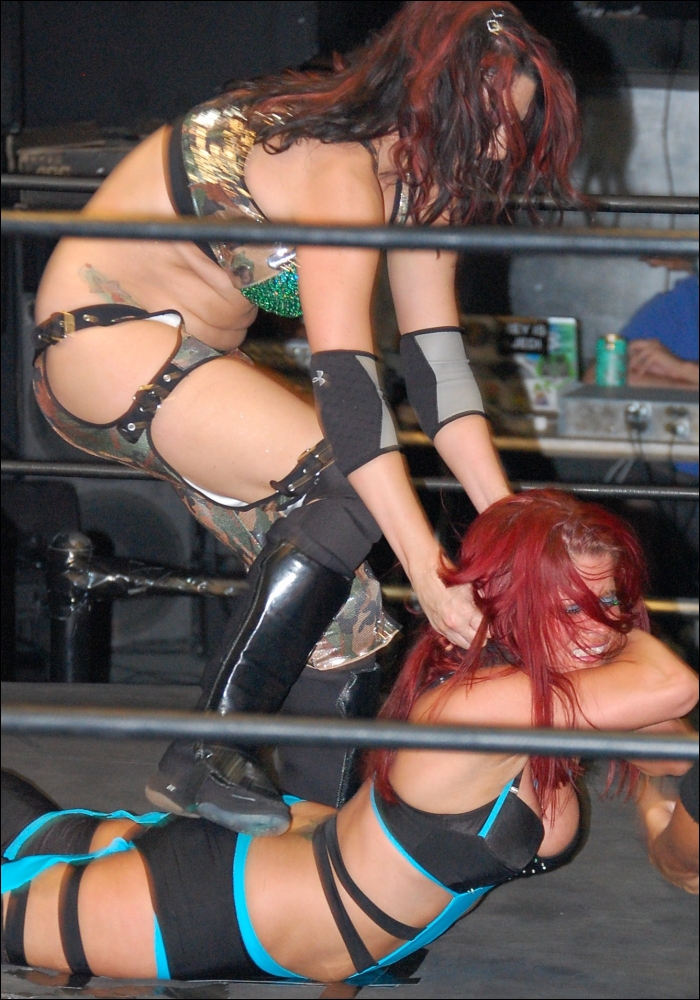 Photo:
Ed Darcey
Bonus POD!
Picture #7
Bonus POD!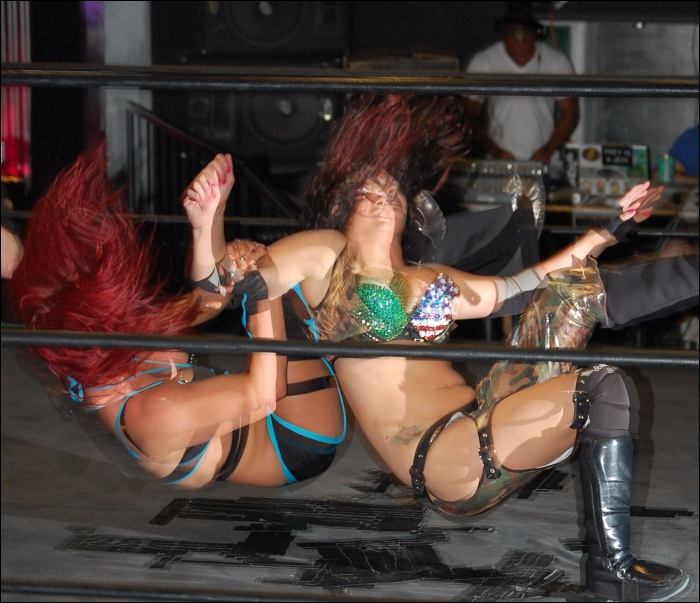 Photo:
Ed Darcey
Bonus POD!
Picture #8
Bonus POD!
Photo:
Ed Darcey