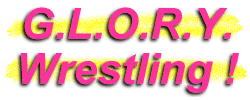 Sassy Stephie
Wrestler
Sexy Stephie? Savage Stephie? Sassy Stephie...now you've got the name right! But just one look at this lady will convince you that first name would be just as appropriate. And after seeing her in the ring, you'll realize that she will savagely attack her opponent if the mood strikes her. And it usually does! Sassy Stephie wants it all her way...and if she doesn't get it, you can expect to see her throw one of her famous fits. But despite all the theatrics, this lady can wrestle. How else can you explain the two championships she's already captured during her young career? Keep an eye on Sassy Stephie as she makes her mark on the Midwest indy scene!
Sassy Stephie!
Stephie's camel clutch puts a hurtin' on fellow G.L.O.R.Y. Girl Lexi Lane.
Stephie is all smiles...as long as she gets her way!
Stephie violently works over her opponent's arm.
Sassy Stephie's Stats...
Height:

5' 3"

Weight:

117

Hair:

Black

Eyes:

Blue

Hometown:

Akron, Ohio/Las Vegas, Nevada (USA)
Sassy Stephie's Profile...
How It Started:

By a complete accident! I was always a fan as a kid. I watched religiously and I always thought how cool it would be to wrestle, but I never actually thought about doing it. Well, there was a promotion that was running weekly in my hometown. I decided I had to check it out and after I did I returned week after week. One week the ring announcer had a headache and sat out. One of the commentators did the announcing and he suggested to the promoter to give me a chance. He knew that I could use the microphone since I was a DJ at a local bowling alley. I had my try-out and within a couple weeks I was doing the ring announcing weekly. Then one of the guys asked me one day:

"You love this so much, why don't you start training?"

That was something that never occurred to me! I felt like I needed to slap my forehead and say DUH! I searched for different wrestling schools in the area and I still train with the promotion I chose. The first time I stepped into the ring and started learning I was absolutely hooked!

Gimmick:

I am very serious in the ring. However, the crowd can get under my skin and cause me to lose my focus...but once I gain it back I take it all out on my opponent. If I don't get my way in the ring I WILL throw a fit! I have a very bad temper and I'm not afraid to use my attitude to bully people around. It is better if you just give up and see things my way at all times.

Wrestling Style:

I'm a mixed-bag of styles: the element of surprise...you never know what I will do next.

Gear:

I find all sorts of interesting gear. I usually modify them to my liking. It really depends on how I'm feeling that day on what I'll wear.

Titles Held:

NEPW Women's Champion; WASP Women's Champion.

Biggest Win:

When I beat Ashley Lane in a catfight brawl despite being injured.

Worst Loss:

All of them!

Favorite Type of Match:

I love being in singles matches the most. But as long as I am in the ring wrestling, I don't care what kind of match it is.

Favorite Moves/Holds:

The sleeper slam and sleeperhold are two favorites of mine. I'll use whatever will wear someone down.

Finisher:

Once again, the element of surprise! I will come at you with all sorts of different moves and holds to win. You'll never know what hit you.

Biggest Allies:

Simply Sexy Shawn Blaze...he has always has my back.

Most-Hated Enemies:

Ashley Lane; Nevaeh; Angel Dust.

Toughest Opponent(s):

Everyone I have stepped into the ring with has their strengths and has been tough.

Career Highlight:

My first match was a part of the first-ever Ladies Night for Ohio Championship Wrestling in 2007. I was a part of the second Ladies Night in 2008 as well.

Favorite Wrestlers:

Sensational Sherri (RIP).

Wrestling Ambition:

I would love to make a living from wrestling. If I could wrestle and make enough money to live comfortably, I would do it in a moment.
Sassy Stephie's Personal Notes...
My initials are SAS which is where "sassy" came from originally. The fact that I have an attitude is just an added bonus.....I work at UPS.....I collect all shapes, sizes and colors of rubber ducks!.....Las Vegas and Chicago are my two favorite cities to visit/vacation.....Other loves in my life: music, photography and my cat.
Essential Sassy Stephie Links...
Sassy Stephie Video