Picture Of The Day for August 9, 2010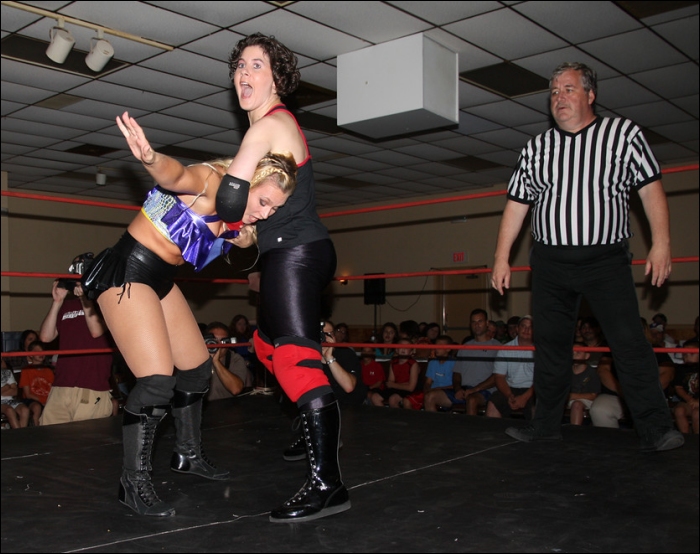 The Definition Of Over-Confidence
G.L.O.R.Y. Girl Cindy Rogers...long-known as The Definition Of Technician to indy wrestling fans...looks like she may have acquired a new moniker after her match against Tina San Antonio this past weekend at WSU's Middletown, New Jersey, event: The Definition Of Over-Confidence!
Cindy seemed to be well in control in her match against the WSU rookie. Locking the blonde in a front facelock, Rogers even mugged a little for the crowd before preparing to plant her opponent into the mat [above]. But something went wrong for the technician on the way to her presumed victory. San Antonio managed to turn things around and surprised the way too confident Rogers...stealing an unexpected win from the stunned and angry (make that very angry) veteran [Picture #2]. And how did Ms. Rogers react to the loss? Did she give the rookie a congratulatory high-five? Maybe a handshake in the middle of the ring? Nope. She did exactly what you would expect an enraged Cindy Rogers to do: she grabbed some blonde hair and proceeded to smash San Antonio's face into the ring mat! [ #3]
We think there will be little over-confidence on the part of Cindy Rogers the next time she steps into the ring with Tina San Antonio. And we're already starting to feel a little sorry for the rookie when that day comes.
Photo:
Hollow
Bonus POD!
Picture #2
Bonus POD!
Photo:
Hollow
Bonus POD!
Picture #3
Bonus POD!
Photo:
Hollow