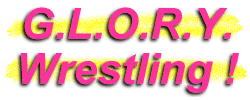 Cindy Rogers
a.k.a. VENOM
Wrestler
From the mean streets of Hartford, Connecticut, Cindy Rogers certainly earns her nickname of "Bad-Ass". This leather-clad biker rarely smiles...has a mean streak...is all business in the ring. And that business is working over opponents in whatever way is necessary to get a win. If Rogers can cause some pain and suffering along the way...she won't pass up the opportunity. "Bad-Ass" indeed!
Black leather and a nasty attitude. Is it any wonder that Cindy Rogers picked-up the nickname 'Bad-Ass'?!
Cindy prepares for a WXW match.
Rogers has Nikki Roxx suffering in a tight armbar.
One of the few times you'll see Cindy Rogers smiling in the ring
Cindy Rogers' Stats...
Height:

5' 5"

Weight:

140

Hair:

Brown

Eyes:

Blue

Hometown:

Hartford, Connecticut (USA)
Cindy Rogers' Profile...
How It Started:

I have always loved wrestling since I was little. My favorite was the Junkyard Dog. Then I became a diehard Hulkamaniac and Hart Foundation fan. My brothers and I would wrestle all the time--much to my mother's and furniture's dismay! When they came out with the wrestling figures(LJN), I started collecting them. I still collect figures to this day. (It's definitely a conversation piece!) I really wasn't aware of wrestling schools until they did the first Tough Enough. I started researching schools and asking wrestlers about schools. Sgt.Slaughter and Hacksaw Jim Duggan actually led me to the school I trained at: The Monster Factory.

Gimmick:

An announcer jokingly nicknamed me "Bad-Ass" and it stuck. I come out in my leather biker jacket and sunglasses, with a full "I'm going to kick your ass" attitude.

Wrestling Style:

Old-school rulebreaker and a bit of a brawler.

Gear:

Black leather jacket and black tights, usually with a black sports top.

Titles Held:

WXW Women's Champion.

Biggest Win:

All wins are big wins...no matter how you get them!

Worst Loss:

Any loss to Monica Mansfield!

Favorite Type of Match:

Old-school, one-on-one.

Favorite Moves/Holds:

Russian Leg-Sweep.

Finisher:

Sidewalk-Slam From HELL! or raised choke-slam.

Biggest Allies:

The Entrepreneur; Robert Pigeon; Jake Bishop; John "The Tank" Toland; Cliff Compton; J.T. Nightmare.

Most-Hated Enemies:

Monica Mansfield.

Career Highlight:

In 2002, I injured my knee. A few weeks into the injury, I was scheduled to do a show. I hadn't been training because of the injury, but of course nothing was going to stop me from doing the show! Well, my knee held up. I'd like to say painlessly, but anyway, the match turned out to be my favorite match to date.

Favorite Wrestlers:

Bret "The Hitman" Hart; Triple-H.

Wrestling Ambition:

All the way to the big dance: WWE!
Cindy Rogers' Personal Notes...
When I'm not wrestling, I work at a bank. Hey...it pays the bills and insurance. A must in this business!.....I'm also a musician: a drummer and a bit of vocals. I haven't done much recently with it, but I hope to get back to something along those lines every now and then.....I am also a HUGE Elvis Presley fan. I go to Memphis every year for Elvis Week. My friends tease me about all the Elvis stuff I have at home. They call it my shrine. Little do they know I have even more stuff at my parents house!.....At home, I have three cats: Furball, Suede and A.C. They are my sanity. They were all strays. I actually found A.C. in the drive-thru window at the bank I work at. Three is my limit though. Any more and there goes my sanity! lol.....I got to the gym on a regular basis. I also play softball. Softball helps with the cardio, because that is my least favorite part of working out. The rest I love!
Essential Cindy Rogers Links...