Picture Of The Day for May 1, 2010
Rogers & Daffney Get To Slammin'!
It's the first day of the month...and you know what that means, right? A new FREE GALLERY over at Lexie's SLAMmin' Ladies site! This month brings us a classic battle between two popular G.L.O.R.Y. Girls: "The Definition of Technician" Cindy Rogers and Scream Queen Daffney.
The match begins as you would expect with Cindy trying to wear her opponent out using her arsenal of technical tactics. A front facelock [above] gives Rogers the early advantage. Shortly thereafter, a combo face/leglock stretch seems to cause Daffney some discomfort [Picture #2]...but it doesn't get Rogers the submission she is looking for. Cindy decides to try another stretch of the screamer...this time a full body torture that has Daffney looking like a piece of taffy as she's pulled in every which direction [ #3]. Still, with all the screaming coming from Daffney, the referee hears nothing resembling a submission. So what does Ms. Rogers do? Easy...she cheats! A boot to the throat against the lower turnbuckle has Cindy trying to grind a submission out of her opponent [ #4]. It looks like technicality has given way to brutality!
Want to see more pictures from this match? Head over to the SLAMminLadies.com Free Gallery of the Month to see forty photos covering the highlights of the action.
Better yet, you can click here to check out a preview video of this Cindy Rogers/Daffney encounter. Like what you see? Use the handy buttons on that same page to download the full match.
Photo:
SLAMminLadies.com
Bonus POD!
Picture #2
Bonus POD!
Photo:
SLAMminLadies.com
Bonus POD!
Picture #3
Bonus POD!
Photo:
SLAMminLadies.com
Bonus POD!
Picture #4
Bonus POD!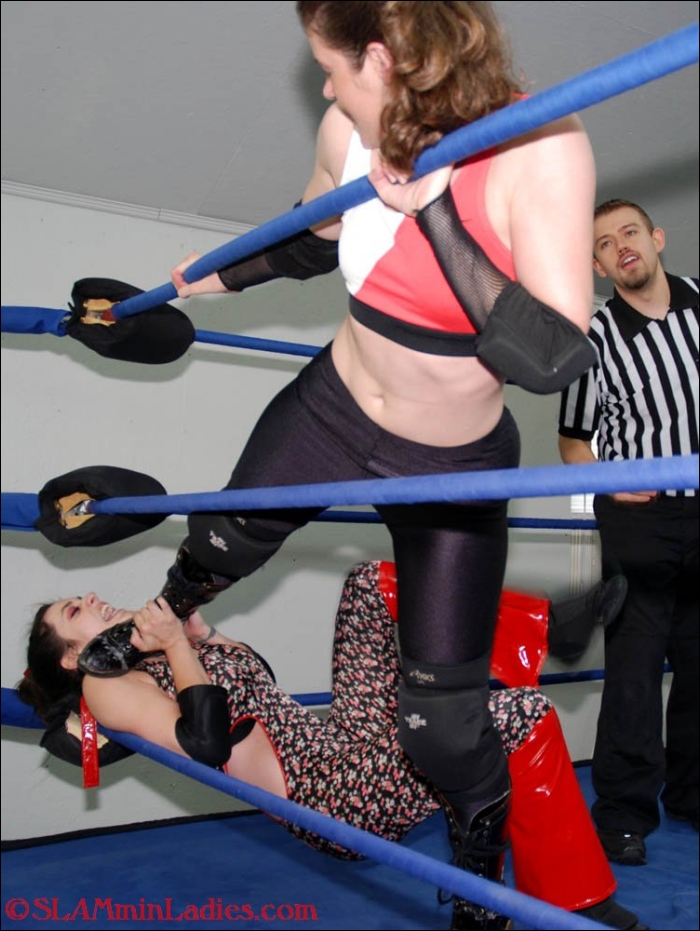 Photo:
SLAMminLadies.com