Picture Of The Day for August 6, 2009
A Tiffany Attack!
Today we wrap up the action from the July GCW event in Calera, Alabama, which featured a match between G.L.O.R.Y. Girls Fantasy and Tiffany Roxx. Yesterday it looked like Fantasy was turning the tide and finally gaining the advantage over her larger opponent. So what was Tiffany's strategy to counter the Fantasy offensive? Easy...CHEAT!
A standing surfboard started the abuse [above] with Roxx literally trying to tear the arms off of her opponent. Now, there's nothing illegal about the hold. We realize that. But look at Tiffany's face as she applies the hold. She seems to be enjoying it. The more Fantasy whimpers in agony, the better Roxx likes it! And then things got worse for the 4' 11" wrestler...
Fantasy's hair was the next target of Tiffany's attack. Take a look as Roxx stands on the hair and tries to pull it out by the roots as she pulls up on Fantasy's wrists [Picture #2]. Then it's simply a couple of handfuls of hair that cause Fantasy to squeal in pain [ #3]. And even that didn't satisfy the vicious Tiffany Roxx! It became obvious to everyone in the GCW arena that this lady was out of control when she buried both hands into Fantasy's throat and tried to choke her enemy senseless [ #4]. Roxx wasn't just looking for a win...she was looking to destroy!
Tiffany's strategy came back to haunt her in the end. Passing up numerous opportunities to cover and pin her opponent, Roxx spent more time arguing with the referee than concentrating on her match. The result? She gave Fantasy an opening to sneak in from behind and roll her up for a small-package pin and the victory!
Photo:
Brian Reese
Bonus POD!
Picture #2
Bonus POD!
Photo:
Brian Reese
Bonus POD!
Picture #3
Bonus POD!
Photo:
Brian Reese
Bonus POD!
Picture #4
Bonus POD!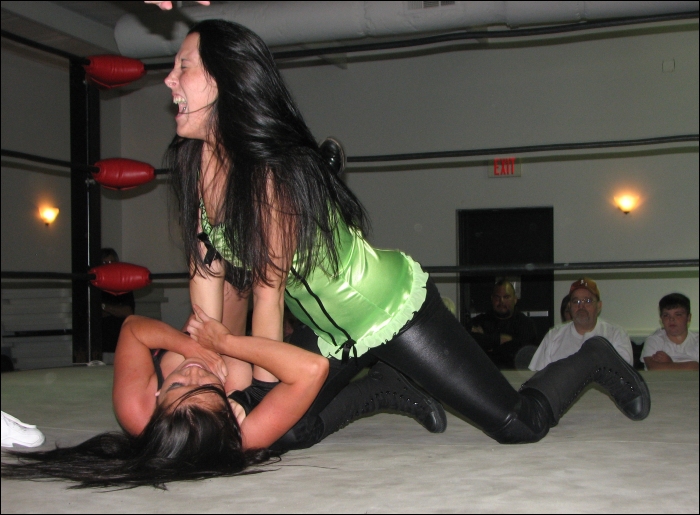 Photo:
Brian Reese