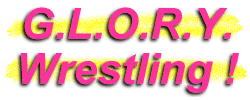 Tiffany Roxx
a.k.a. Roxy
Wrestler
One of the toughest women on the Georgia wrestling scene, Tiffany Roxx is not only making an impression with fans...she's also impressing everyone she battles in the ring. This brawler and rule breaker admits to doing whatever it takes to win, whether it be pulling tights, yanking hair, using the ropes or enlisting the help of a ringside accomplice. That makes Tiffany Roxx one very dangerous wrestler!
Tiffany Roxx!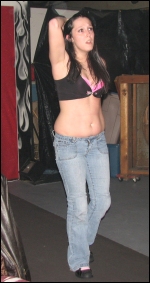 Tiffany backs away from the ring after a hard-fought street fight.
Kassie Rains has Roxx suffering big time in a seated surfboard.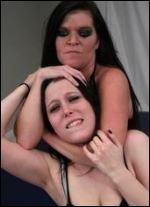 Tiffany is in trouble again: this time she's caught in Fantasy's tight sleeperhold.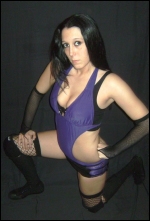 Tiffany Roxx...but you can call her Roxy!
Tiffany Roxx's Stats...
Height:

5' 3"

Weight:

120

Hair:

Black

Eyes:

Brown

Hometown:

Fort Oglethorpe, Georgia (USA)
Tiffany Roxx's Profile...
How It Started:

When I was in high school, my friend Charlie wanted me to come see him wrestle. I was surprised and said to him

"they have that around here?"

After going to a show and watching some of my other friends train, I gained respect for a business that I didn't even know existed off of national TV. I started training in early 2004 and its all history from there.

Gimmick:

I'm a brawler with some great power moves. I will do anything to win...whether it's pulling tights, using the ropes or having a friend help me out. I'm a winner and I want to keep it that way.

Wrestling Style:

I really don't have a "wrestling style". I like to mix it up using some technical moves, mat wrestling, power moves and high flying. Every time you see me I want it to be different...like to keep my opponents guessing.

Gear:

My outfits vary. I can wear pants or a cute shorts outfit. I like to show a little leg but make sure everything is locked down nicely. I usually wear black, pink, white and purple.

Titles Held:

CWA Women's Title.

Biggest Win:

All of my wins are important. I strive to be the best at what I am.

Worst Loss:

My worst loss was losing to Logan Chase III, a man, in a

Queen Of TWA

match.

Favorite Type of Match:

I love doing tag matches, either mixed or all women. It gives you the chance to show your stuff and run your mouth at the same time. The crowd loves it.

Favorite Moves/Holds:

Side slam; head scissors; face buster; cross body from the top rope.

Finisher:

"The Rock and Roll"

.

Biggest Allies:

Fantasy; Christy Whiplash; Amy Morgane; Constance; Jessica Wetmore; Crystal Fire.

Most-Hated Enemies:

Anyone who steps in the ring with me is my enemy.

Toughest Opponent(s):

Fantasy.

Career Highlight:

My career highlight was when I heard the crowd cheer for me after my first match. I then that this is what I am made to do.

Favorite Wrestlers:

Shawn Michaels; Triple H; Undertaker; Brad Armstrong; Trish Stratus; Lita.

Wrestling Ambition:

Everyone has dreams of being on national TV with a brand like WWE or TNA. If my career takes me that far, good...but I love where I am now and having the interaction with the fans that make our business.
Tiffany Roxx's Personal Notes...
Behind the pro wrestler: I'm a full-time mother to two wonderful children. I have a daughter, Halley, and a son, Christian.....We are a wrestling family. My husband and I both wrestle and the kids love it!.....I also work a full-time job and try to fit as much free time in my schedule as needed.....I love to kick back and read, play Super Mario Brothers or watch a thriller.
Essential Tiffany Roxx Links...
Tiffany Roxx Video