Picture Of The Day for August 5, 2009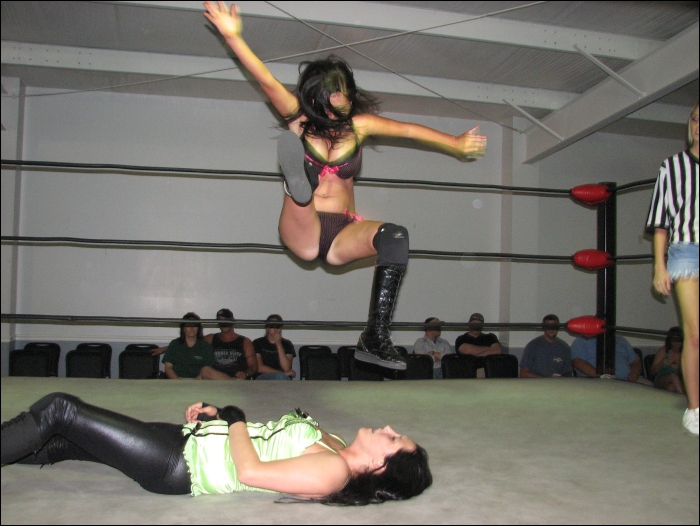 Tiffany Roxx: Still In Trouble!
Yesterday we watched as G.L.O.R.Y. Girls Tiffany Roxx and Fantasy battled a couple of weeks ago for GCW in Calera, Alabama. Tiffany was in trouble early in this one, as Fantasy tried to put her away early in their battle. Take a look at Fantasy as she takes to the air and prepares to drop a leg across the throat and upper-chest of her foe [above]. Tiffany will be suffering in a moment once the high-flying Fantasy crashes down with this crushing blow!
A kick to the belly is next [Picture #2]...but that's just a set-up for Fantasy's next maneuver. After Roxx doubles-over from the boot to the midsection, she finds herself hooked up and hoisted off the mat [ #3]. She knows what's coming next...and it won't be good for her. Next up: say hello to the ring mat, Tiffany, as Fantasy plants you!
Fortunately for Ms. Roxx, she was able to find an opening during Fantasy's attack...and she took advantage of it. Rebounding off the ropes, Tiffany surprises Fantasy with a tough clothesline that takes the smaller wrestler off her feet [ #4]. Now it was Tiffany's turn to set the tempo of the match. And her tempo was not only rough, it was vicious! We'll show you just how nasty Tiffany Roxx can get tomorrow...
Photo:
Brian Reese
Bonus POD!
Picture #2
Bonus POD!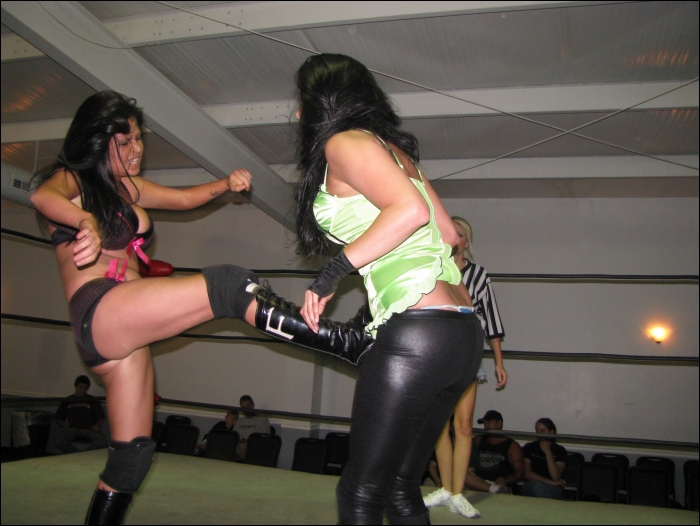 Photo:
Brian Reese
Bonus POD!
Picture #3
Bonus POD!
Photo:
Brian Reese
Bonus POD!
Picture #4
Bonus POD!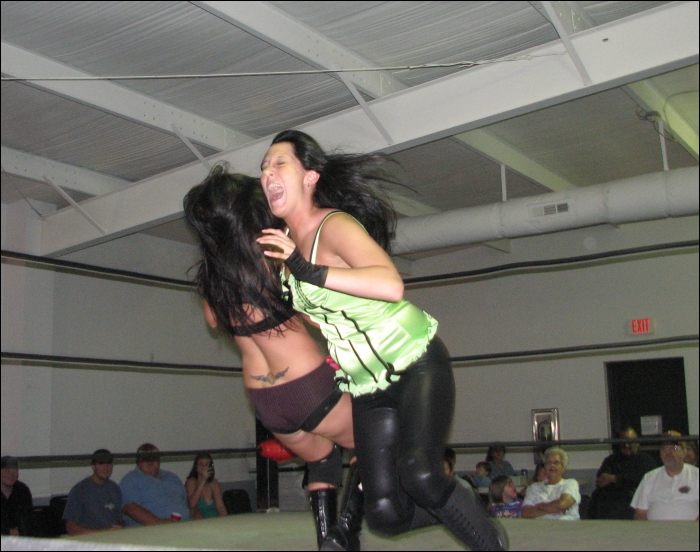 Photo:
Brian Reese