Picture Of The Day for April 18, 2009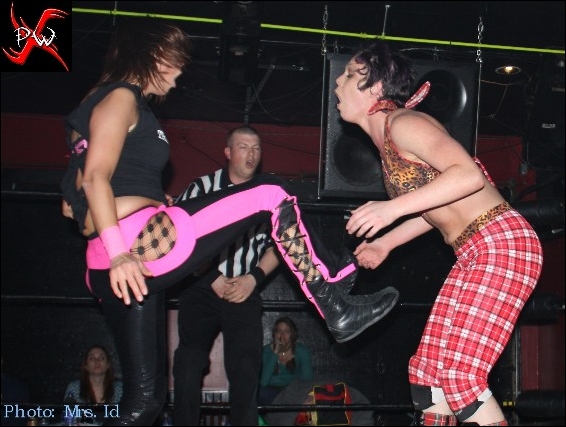 Getting Their Kicks In!
G.L.O.R.Y. Girls Nikki Roxx and Cherry Bomb got their kicks in during a recent PWX match in St. Thomas, Ontario. Cherry was the first to throw the boot leather around when she surprised Nikki with a shot to the midsection...and maybe even a little lower than that based on the reaction that the referee had to the blow! But Nikki came back with a brutal boot of her own and nearly sent her opponent through the ropes and to the floor (below). Back again came Cherry...planting a boot to the throat of the TNA star that had Nikki suffering against the turnbuckles.
Despite today's pictures, the ladies did use their hands, arms and the rest of those gorgeous bodies during this battle. You can catch more of the action from this match at Mrs. Id's site. Hit the link below.
Photo:
Mrs. Id
Bonus POD!
Picture #2
Bonus POD!
Photo:
Mrs. Id
Bonus POD!
Picture #3
Bonus POD!
Photo:
Mrs. Id