Picture Of The Day for April 17, 2009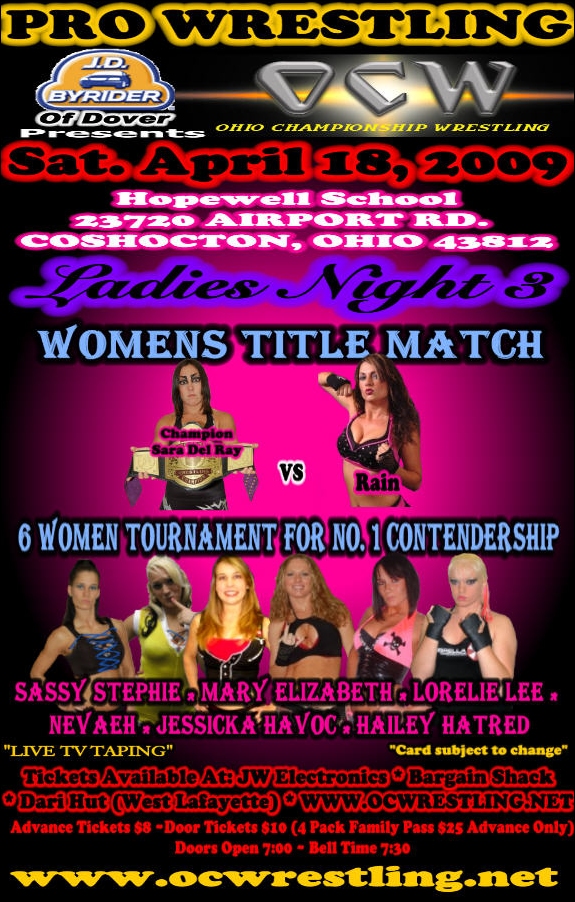 Ladies Night 3 In Coshocton, Ohio
Tomorrow brings some of the top ladies on the indy scene to Ohio Championship Wrestling's Ladies Night 3 in Coshocton. Take a look at all the great women on this card...five of them G.L.O.R.Y. Girls...and you can see that this is certain to be an exciting night of action. You can check out a commercial for the event here.
Wrestlin' Wally was at the first Ladies Night Out event in Coshocton a couple of years ago and has three huge galleries of action photos on display over at his place. One of the most-exciting matches that night took place between two ladies who are scheduled to be on tomorrow's card: Lorelei Lee and Hailey Hatred. Check out a bit of the action between the two ladies below.
If you will be anywhere near Coshocton on Saturday, make a beeline for the OCW Ladies Night 3 event!
Bonus POD!
Picture #2
Bonus POD!
Photo:
Wrestlin' Wally
Bonus POD!
Picture #3
Bonus POD!
Photo:
Wrestlin' Wally