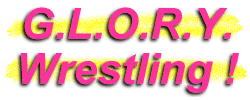 Lorelei Lee
Wrestler
A little bit country and a little bit rock 'n roll? Uh-uh...Lorelei Lee is A WHOLE LOTTA COUNTRY! The beautiful wrestler from the "Rolling Hills of Home Sweet Home" became interested in the grappling game after seeing MTV's Tough Enough on television several years ago. Wrestling turned out to be the perfect profession for the athletic Lee...who is also a certified stuntwoman and fitness competitor. Who is that pretty lil' filly heading to the ring? It's Lorelei Lee!
Lorelei Lee is a little bit country and a little bit rock 'n...umm, well, not really...she's A WHOLE LOT of country! (Photo: Ken Cantrell)
Lorelei works the leg of fellow G.L.O.R.Y. Girl Lexie Fyfe. (Photo: SlamminLadies.com)
A big smile from the All-American country girl, Lorelei Lee! (Photo: SlamminLadies.com)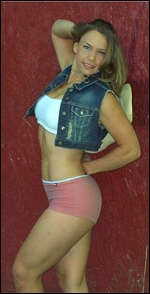 The country girl strikes a pose.
Lorelei Lee's Stats...
Height:

5' 5"

Weight:

145 lbs

Hair:

Light brown w/blonde highlights.

Eyes:

Blue

Hometown:

Sewickley Hills, Pennsylvania (USA)
Lorelei Lee's Profile...
How It Started:

One evening I was flicking though the channels and a lady was talking about what it took for this particular career. At first, I did not know who she was, or what career she was talking about. However, it seemed like a perfect fit for what I wanted in a career. I stayed tuned and found out she was a professional wrestler (former WWE Diva, Ivory) and she was currently a trainer on the MTV series

Tough Enough

. As I watched the show, I began to think:

"This is the career for me! Challenging, tough, and rewarding all in one. Not to mention you get to travel!".

I continued watching the MTV series and also started to watch Monday Night RAW and Smackdown for the first time in my life. The female wrestlers were so athletic and talented...I knew it would be for me! After all was said and done, I got on the G.L.O.R.Y. Message Board and posted a message about places to train in Florida. Jason and Lexie Fyfe responded about a few places to train, and off I went!

Gimmick:

I'm a country gal through and through!

Wrestling Style:

My style isn't any one thing really...it's a little mix of everything as of right now. You'll definitely see some old-school and high-flying.

Gear:

Either some daisy dukes with a halter top, or a pair of chaps topped off with a cowgirl hat. And, I couldn't forget my Cowgirl Boots. : )

Titles Held:

PPW Tag Team Champion;, Mason Dixon Blackberry Queen; Bruiser Wrestling Federation Women's Champion; All Pro-Wrestling Women's Champion; United States Wrestling Federation Women's Champion.

Biggest Win:

Anytime I WIN! It's also what I walk away learning from a match that really makes it a win for me...even if I lose. Because it's what you learn from a loss that can make your next match a WIN!

Worst Loss:

Anytime I lose due to my opponent cheating! If they win because of their ability then they deserve it. But to lose to them because they cheat...that's just not right!

Favorite Type of Match:

Any match that showcases the women's athleticism.

Favorite Moves/Holds:

Hog Tie; Arm Drag; Victory Roll; Bull Dog; Head Scissors; Oklahoma Roll.

Finisher:

Usually some sort of roll-up.

Biggest Allies:

Everyone who has helped me out.

Most-Hated Enemies:

I don't hate anyone. I just hate their choices, or their actions. Cheating is one of them!

Toughest Opponent(s):

Anyone who is across the ring from me when the bell rings!

Career Highlight:

Being invited to work for SHIMMER.

Favorite Wrestlers:

I enjoy many different wrestlers for the different qualities they bring to the ring. The Rock for his promos, Kurt Angle for his athleticism, Molly Holly for her gimmick...come to think of it, the list can go on and on!

Wrestling Ambition:

To enjoy the journey, because that's what life is all about.
Lorelei Lee's Personal Notes...
I am currently working on my Masters and have countless fitness certifications along with being a certified stuntwoman.....I compete in fitness competitions, model and act.....I love the outdoors, going to the beach, roller coasters and spending time with my family, friends and loved-ones in my life.
Essential Lorelei Lee Links...