Picture Of The Day for April 7, 2009
Suffering Sassy?
The women were a big part of last week's DCW event held in Hastings, Pennsylvania. No fewer than seven ladies were involved in five different contests, with three of those matches starring the girls in one-on-one singles action. The match between G.L.O.R.Y. Girls Sassy Stephie and Brittany Force (a.k.a. XTC) was one of the highlights of the evening. A couple of days ago we saw Stephie getting high-fives and encouragement from some youngsters in the crowd as she made her way to the ring. But once inside the ropes things turned bad almost immediately for the brunette when Force attacked her from behind...pounding away with some vicious right fists to the head. The attack set the tone for a match that would find Steph on the receiving end of loads of nasty punishment.
A breath-stealing choke attack put Ms. Force firmly in the driver's seat as she throttled her dazed opponent on the mat with two hands buried deep into the throat (below). Force seemed almost nonchalant as she punished the crowd favorite with a grinding boot to her already tender neck area. The boos of Sassy's fans over the foul tactics being used on their girl only drove Brittany to be even more aggressive. After some more choking--this time over the bottom ring rope--the evil wrestler had Sassy screaming in pain as she ripped and pulled at that flowing hair. And if all that weren't enough, the creep that Force brought with her to the ring got in on the act...working Stephie over that lower rope again. Come on...that's two against one! Where the heck is the ref?
But even after absorbing this awful abuse, Sassy Stephie was able to fight her way back into contention in the match. Stop back tomorrow to see what happened...
Photo:
Wrestlin' Wally
Bonus POD!
Picture #2
Bonus POD!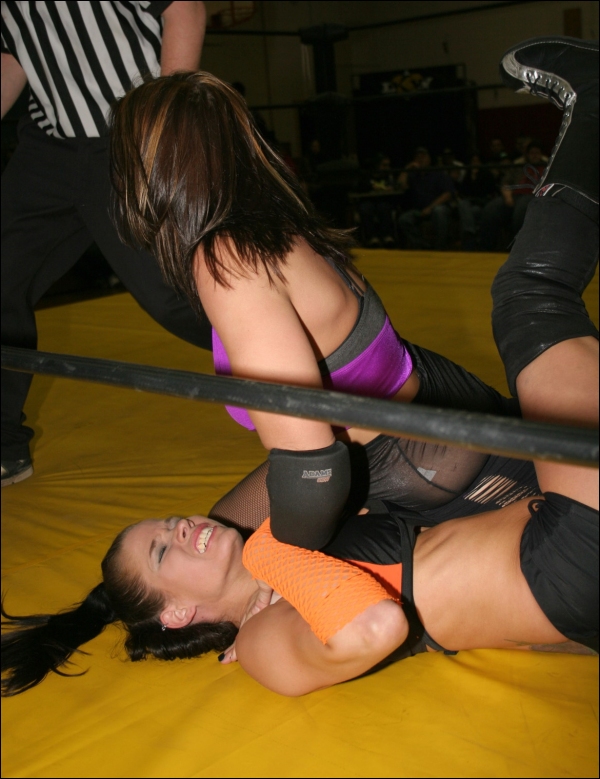 Photo:
Wrestlin' Wally
Bonus POD!
Picture #3
Bonus POD!
Photo:
Wrestlin' Wally
Bonus POD!
Picture #4
Bonus POD!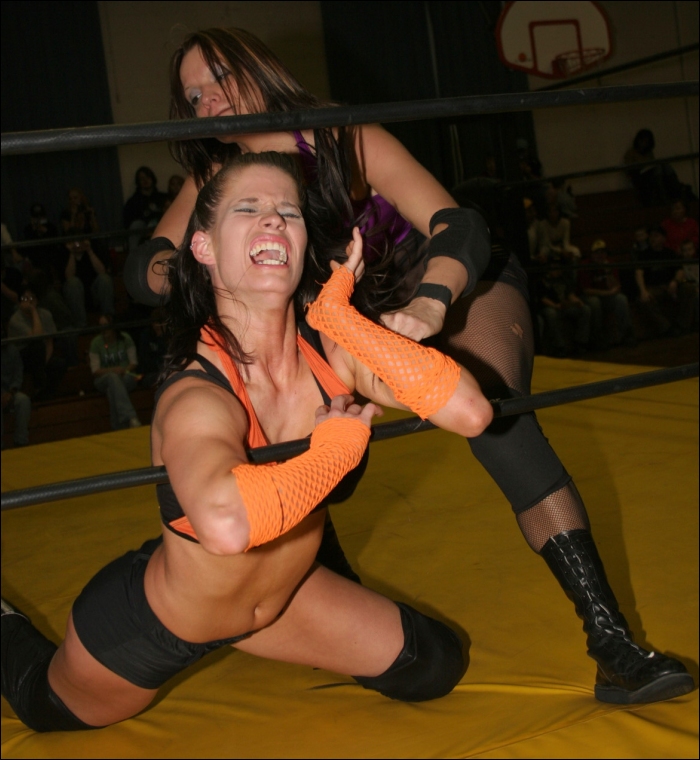 Photo:
Wrestlin' Wally
Bonus POD!
Picture #5
Bonus POD!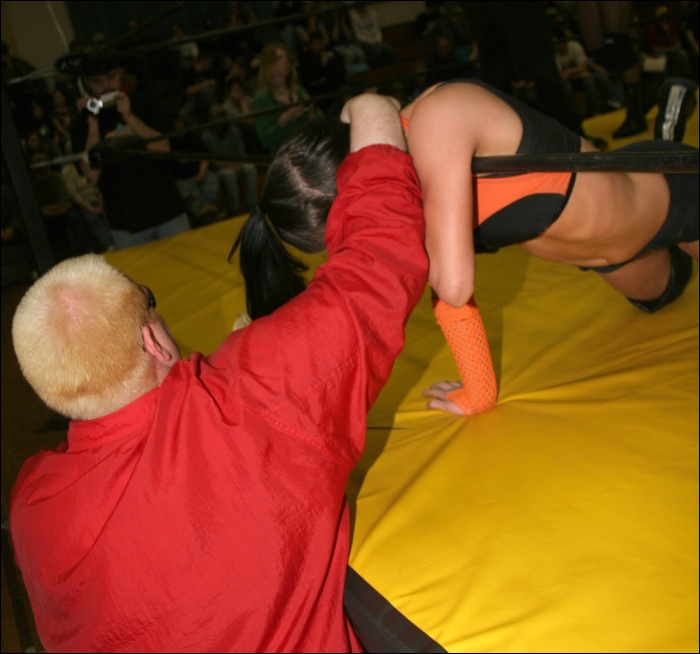 Photo:
Wrestlin' Wally