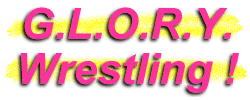 Brittany Force
a.k.a. XTC
Wrestler
Since she was a very young girl, Brittany Force knew who she wanted to be: Miss Elizabeth! But as she grew older, the athletic Ms. Force decided that she didn't want to just stand next to the ring...she wanted to be in on the action! Now Brittany Force is one of the fast-rising female wrestling stars on the Western Pennsylvania indy wrestling scene.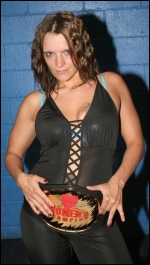 Brittany Force!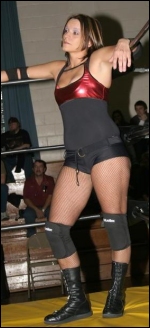 Look at the arrogant posturing as she waits in her corner!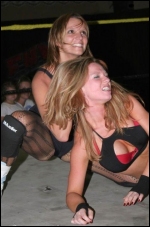 Brittany works the hair of Nevaeh.
Notice that Brittany Force always has the biggest smile when she's causing the most pain?!
Force tortures yet another opponent!
Brittany Force's Stats...
Height:

5' 5"

Weight:

130

Hair:

Brown with highlights.

Eyes:

Brown

Hometown:

Every Man's Fantasy (USA)
Brittany Force's Profile...
How It Started:

I am very athletic. Although I first entered wrestling as a manager, I started training to wrestle from the very first day...knowing that I wanted to be competing inside the ring and not just watching from the outside.

Gimmick:

I am an arrogant

"better than you...yes, ALL OF YOU"

heel.

Wrestling Style:

I'm a down and dirty brawler. I'm fond of the top rope as well.

Gear:

Mostly one-piece sets, shorts and tops.

Titles Held:

PWR Women's Championship; DCW Women's Championship.

Biggest Win:

My biggest win would have to be over Lorelei Lee to retain the DCW Women's Title. It was a very solid match and I came out on top.

No...I did NOT cheat!

Worst Loss:

My worst loss would be to Nevaeh at FNW. But I have since gotten my revenge and I hope to face this opponent more in the future.

Favorite Type of Match:

Singles and tag matches.

Favorite Moves/Holds:

"Alley Oop"

; bulldog; spine buster; flat liner.

Finisher:

Samoan drop.

Biggest Allies:

I have no allies. I work alone!

Most-Hated Enemies:

Hailey Hatred; Nevaeh; Angeldust; Sassy Stephanie; Morgan Rockefeller; Lorelei Lee; Sara Brooks.

Toughest Opponent(s):

I have respect for every woman in this business, so everyone I step into the ring with I consider to be the toughest.

Career Highlight:

Winning the PWR Women's Championship...I started there as a manager, worked my way up to matches and eventually to the PWR Women's Title. It was a great moment for me.

Favorite Wrestlers:

Everyone. Everyone who deep inside truly loves and respects this business, who trains hard in the gym and in the ring with a REAL TRAINER, who loves this business enough to respect it, who dedicates themself to wrestling...no matter if it's the indies, TNA, WWE or overseas. If you love this business, then you are my favorite.

Wrestling Ambition:

To follow the road as far as it leads me. I love this business and if it all ends at the indy level, I can handle that because I just really love what I do every week.
Brittany Force's Personal Notes...
I am a very busy person, between my work as a pharmacy technician, hitting the gym and tanning. I am also a fiancee and mother. My son plays football and baseball so that is constant running as well.....I love anything athletic. Anything at all!.....I was a member of the Pittsburgh Force pro women's football team, but left to pursue my wrestling career.....I have a GSXR 600 motorcycle which i love to ride.....And that pretty much sums me up!
Essential Brittany Force Links...
Brittany Force Video