Picture Of The Day for March 29, 2009
Ariel & Alicia: "Best Friends" Blast From The Past!
Long-time G.L.O.R.Y. Girls Ariel and Alicia have been best friends--and sometimes not so best friends--during their professional wrestling careers. It was not unusual over the past few years to see these blonde and brunette grapplers teaming up against tag opponents on a Saturday night...then tearing into each other in singles competition on the following Sunday afternoon! This love-hate relationship could even happen over the course of a single match...as it did back in the mid-00's during this classic private match held at the home base of SLAMminLadies.
As you can see, Ariel's left arm was Alicia's first and main target in this match. An effective hammerlock has the Portuguese grappler screaming in pain as her arm is twisted into an unnatural position. We did say that these two ladies have been friends for a long time...but take a look at Alicia's face. Do we see the hint of a smile there? Seems to us that the blonde may be taking just a bit too much pleasure from the agony she's inflicting on her opponent!
Photo:
SLAMminLadies.com
Bonus POD!
Picture #2
Bonus POD!
Going For The Arm
Despite the pain in her shoulder, bicep and elbow, Ariel fights off the discomfort and looks for a means of escape. We can see here that she's managed to get a little room to maneuver, despite Alicia's efforts to keep up the pressure on the left limb. Is this a turnaround in the making...?
Photo:
SLAMminLadies.com
Bonus POD!
Picture #3
Bonus POD!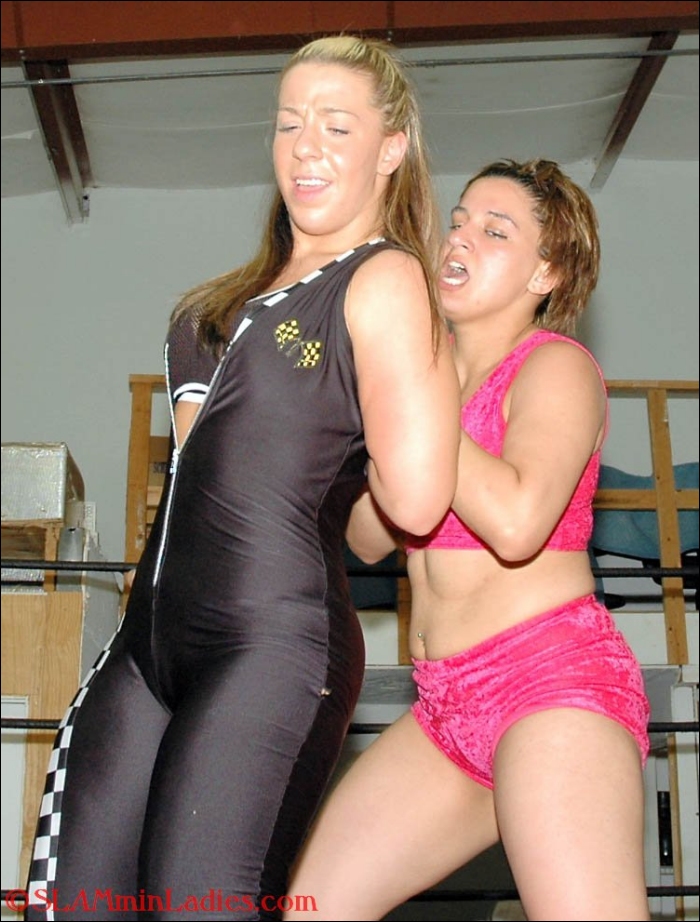 Ariel's Turn!
A quick duck-under and go-behind turns the tide in the match and now it's Ariel who is in control as she has her friend's arm tied up behind her. Alicia is feeling the pain now as the brunette gets to put on the pressure...going after the same arm that Alicia punished just moments earlier. We hope that Alicia isn't expecting any mercy from her friend. We suspect that Ariel is looking for some payback now. That twinge of discomfort showing on the blonde's face tells us that Ariel seems more than happy to hear some squeals of agony from her former attacker.
Photo:
SLAMminLadies.com
Bonus POD!
Picture #4
Bonus POD!
It's Getting Rough Now...
As it turns out, Ariel was looking to hear more than a few squeals of discomfort from Alicia. What she wanted to hear was screams of agony...and that's just what she got when she brought her opponent to the mat and really attacked that left arm. Look at the way Ariel scissors the upper arm and shoulder area as she keeps Alicia's torso steady while she wrenches the limb in an awkward and painful position. The pressure on the teen wrestler's shoulder joint, elbow and wrist has to be unbearable!
Unfortunately, the suffering blonde is so tied-up in knots that her only response possible is to pound her right fist into the mat and scream for mercy. But take a look at Ariel. She seems content to just keep the hold in place and let her...umm...friend suffer a little longer!
Could things be getting a little bit out of control in this battle of best friends? Check back tomorrow...
Photo:
SLAMminLadies.com
32,626,403
Visitors to this page.
"Action is a great restorer and builder of confidence. Inaction is not only the result, but also the cause of fear. Perhaps the action you take will be successful; perhaps different action or adjustments will have to follow. But any action is better than no action at all." -- Norman Vincent Peale
Quick Links
Top Of Page | Home | The G.L.O.R.Y. Girls | POD · LOD · VOW | Hot 100 | Message Board