Picture Of The Day for January 11, 2009
WSU Mayhem In The Cage!
Today we bring you some highlights from yesterday's WSU Championship steel cage match between G.L.O.R.Y. Girl Angel "Riptide" Orsini and Mercedes "The Latina Sensation" Martinez. We wish we could credit the photographer by name, but the only info we can find at this time is the screen handle Hollow. We'd like to thank Hollow for posting these highlights from what appears to have been a brutal, punishing and vicious fight!
One thing that's obvious from Hollow's shots is each wrestler not only dished out, but also absorbed plenty of pain in this brawl. Angel showed just how nasty she could be when she incapacitated Martinez early by planting a dirty knee drop squarely below the belt. Later, a suspended choke (below) kept Orsini in control while nearly strangling the life out of Mercedes!
But as we said, both girls delivered pain and punishment...and when Angel was on the receiving end, her's was of the bloody variety. Even after ramming the G.L.O.R.Y. Girl face-first into the cold steel cage and opening a gash on her beautiful forehead, Martinez continued to pummel her bleeding opponent...obviously interested more in destroying Orsini than simply winning the match.
But this battle took it's toll on both combatants, leaving them lying on the WSU mat battered and hurting. Before this match would end, there would be interference from a variety of sources...including one popular G.L.O.R.Y. Girl and a former WWE star who no one expected to see! It's still too early to know all the details of the show. We're sure that over the next few days we'll find out more...and when we do, you'll be the first to know.
Meanwhile, you can check out more photos from this match and some of the other sights of yesterday's WSU event here on Hollow's photo gallery.
Photo:
Hollow
Bonus POD!
Picture #2
Bonus POD!
Photo:
Hollow
Bonus POD!
Picture #3
Bonus POD!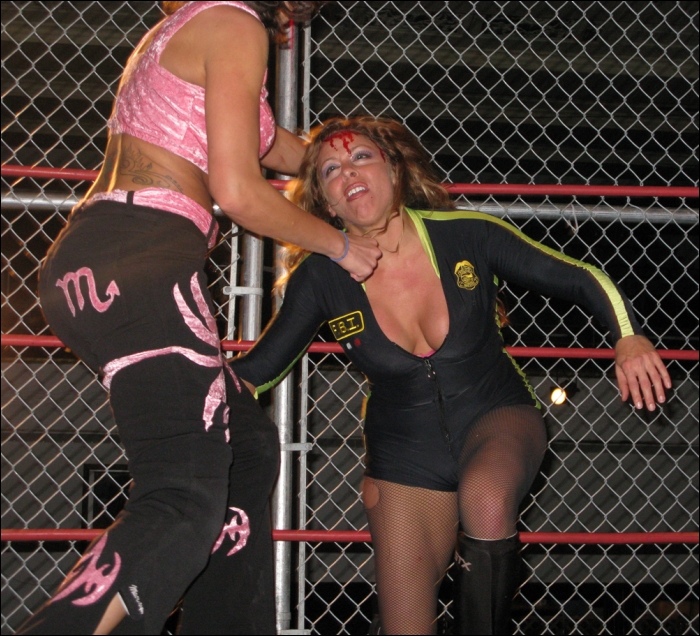 Photo:
Hollow
Bonus POD!
Picture #4
Bonus POD!
Photo:
Hollow