Picture Of The Day for November 28, 2008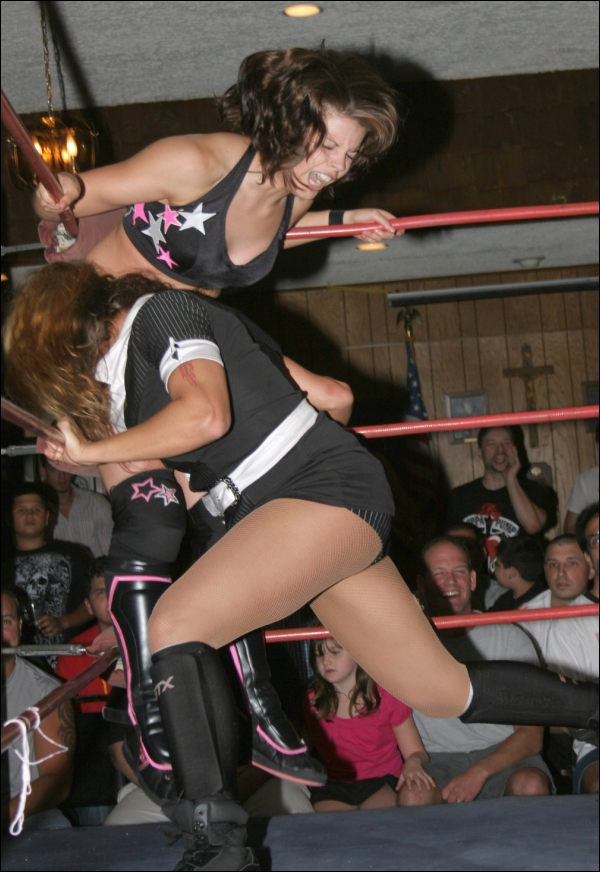 Portia's Black Friday...WSU's Black Friday Sale!
Today we go back and take a look at some action from last summer's WSU brawl between G.L.O.R.Y. Girls Portia Perez and Angel "Riptide" Orisini. The match was an all-out battle with lumberjills surrounding the ring to dish-out their own punishment for any unfortunate wrestler who happened to fall through the ropes. It was not a good night for Portia...
A look at today's pictures shows Perez taking abuse in a number of ways. Cornered against the turnbuckles, Portia gets all the air driven out of her body as Angel drives into her midsection with a series of tough shoulder blocks. The power of these shots is quite evident as they lift the Canadian right off the mat! Portia continues to take abuse (below) as she's trapped against the ropes and pounded with big forearm shots to the chest. Later, it was a big boot to the face that not only flattened Perez, but nearly took her head off! And when Angel tired of beating up on her poor foe, she tossed her through the ropes...putting Portia into danger at the hands of the ringside lumberjills who didn't hold back in laying into her with their own vicious attack. By the end of the match, Portia was a battered and beaten wrestler, trying to compose herself after absorbing the tremendous beating.
But Black Friday can turn out a lot better for you than it did for Portia Perez. Why? Because WSU is running a spectacular Black Friday Sale that will run through tomorrow night! How spectacular is the sale? Listen to this: $5 for any WSU DVD...old or new! That's right! Five bucks. We even had to look at it twice to believe it! We don't know what got into Sean to run a five dollar DVD sale. Maybe he's got the flu and he made this decision when he was loopy with a high fever. Maybe he's just lost his mind. We don't know for sure. But one thing is for sure: you're not going to see a sale like this anywhere else for the remainder of this holiday shopping season!
If you've ever wanted to see the live WSU action that Wrestlin' Wally's camera has captured for you for so long here on G.L.O.R.Y.'s Picture Of The Day...now is the time to act! Click here to see all the details of the sale and how to order your WSU DVDs!
Photo:
Wrestlin' Wally
Bonus POD!
Picture #2
Bonus POD!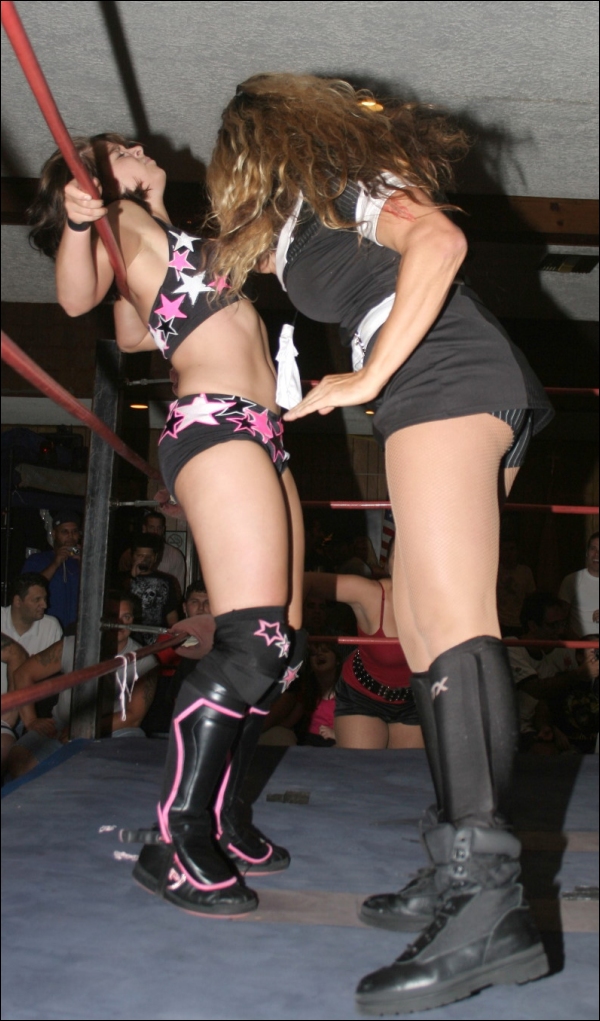 Photo:
Wrestlin' Wally
Bonus POD!
Picture #3
Bonus POD!
Photo:
Wrestlin' Wally
Bonus POD!
Picture #4
Bonus POD!
Photo:
Wrestlin' Wally
Bonus POD!
Picture #5
Bonus POD!
Photo:
Wrestlin' Wally