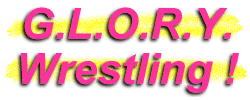 Portia Perez
Wrestler
Hailing from Ottawa, Canada, beautiful Portia Perez is quickly making a name for herself north of the border as well as in "The Lower 48". The sexy Ms. Perez is not only making an impression with her exceptional ring skills, but also with her confident, self-assured--and some would say cocky--attitude. Young Portia Perez is at the very beginning of what looks to be a long and successful wrestling career!
Portia Perez: Ottawa's sexy ring beauty!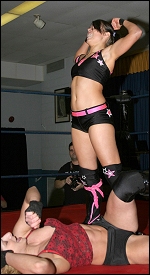 Cocky Portia flexes and shows off over a stunned Danyah.
Perez flies high against Jessica Dalton.
Portia snaps her opponent down to the mat.
Portia Perez's Stats...
Height:

5' 4"

Weight:

128

Hair:

Brown

Eyes:

Brown

Hometown:

Ottawa, Ontario (CAN)
Portia Perez's Profile...
How It Started:

I started watching wrestling on TV with my father and older sister when I was about two years old. I've wanted to wrestle ever since! I started looking into wrestling schools, and ended up being trained by Dave Dalton at UWA Battleground Academy in Ottawa.

Gimmick:

I'm pretty much all about my huge muscles and ninja awesomeness...and mocking my opponents because they

don't

have huge muscles OR ninja awesomeness.

Wrestling Style:

A lot of strikes and also a bit of flying thrown in.

Gear:

I have a couple different outfits, but it's always black and pink shirts, shorts and kickpads.

Titles Held:

MEW Women's Championship; GCW Women's Championship.

Biggest Win:

Two that stick out are over Hailey Hatred in Nashville and over Nikki Roxx in Ottawa.

Worst Loss:

None in particular...they're all bad.

Favorite Type of Match:

Singles and tags. But I love any match with good wrestling.

Favorite Moves/Holds:

Spinning heel kick; various knee strikes; swinging reverse STO.

Finisher:

"The Kosher Pickle" (Unprettier/Acid Drop combo).

Biggest Allies:

Nicole Matthews (SHIMMER).

Most-Hated Enemies:

Nikki Roxx; Misty Haven; Ariel.

Toughest Opponent(s):

Nikki Roxx; Hailey Hatred; Sara Del Rey.

Favorite Wrestlers:

I have many, but primarily Chris Jericho, Owen Hart, Shawn Michaels and The British Bulldogs.

Wrestling Ambition:

To become as good as I possibly can.
Portia Perez's Personal Notes...
I really enjoy working out, traveling and hanging out with my dogs.....I am a big fan of Batman, penguins and ninjas.....My collections of Friends and Will & Grace episodes keep me sane when I'm away from home!.....I also like listening to music a lot.
Essential Portia Perez Links...