Picture Of The Day for September 26, 2008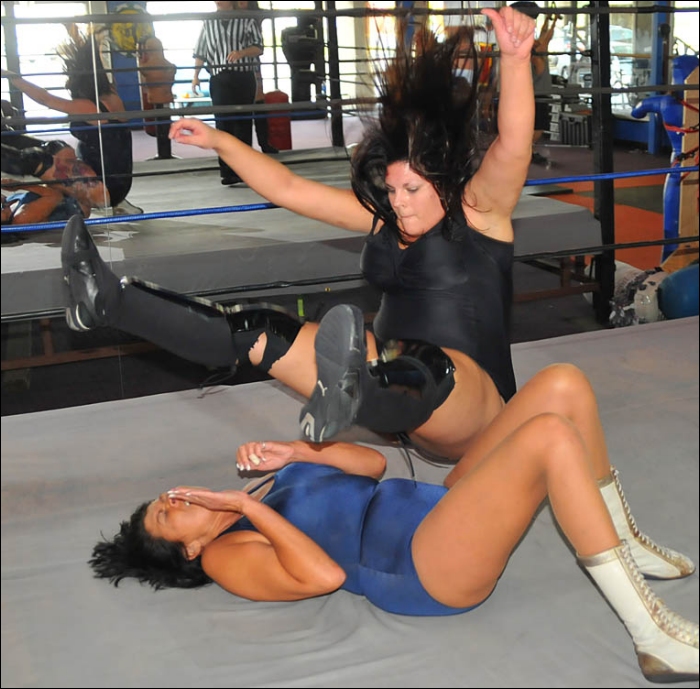 More SLAMmin': Pandora, Diane Von Hoffman Rampage!
Yesterday we promised you some more action from the matches SLAMminLadies.com sponsored earlier this week. And we're ready to deliver on that promise! Are you ready? : )
G.L.O.R.Y. Girl Pandora Boxxx was in a little trouble in our last POD thanks to Big Red April Hunter, but she comes back today to dish out some punishment of her own...much to the dismay of ring vet Candi Divine. That's Candi bracing herself for what she knows is going to be a painful leg drop that Pandora has aimed directly to her midsection. POW!
Candi would later find herself the victim of some brutal treatment once again when she took on another ring vet: the returning Diane Von Hoffman. In fact, Von Hoffman's ring return was one of the top stories of this wrestling session. Would the tough blonde be able to handle the "ring youngsters"? Would Diane tire quickly? Would she be able to hold up to the competition from which she has lately been absent? We think the pictures below answer those questions definitively!
Candi knows she's in trouble as Diane goes to work on that left leg. Ironically, for someone who has been out of the ring for so long, Diane actually jumps out of the ring to dish out this punishment. Von Hoffman twists and wrenches the limb before slamming Divine's left leg against that steel ring post.
In a later match, the big blonde shows that neither her strength nor her brutal nature have diminished as she lifts another opponent off the mat with a suspended choke hold. Even as referee Fyfe berates Diane about her use of the illegal choke, the German Destroyer doesn't seem that she wants to drop her foe to the mat anytime soon.
In yet another match involving the veteran brawler, even head-SLAMmin' Lady Lexie Fyfe finds herself the victim of the brawlin' blonde. And her torment may be the worst of all as she finds herself brutalized by the German's dreaded Iron Claw. Take a look at Von Hoffman's face...she seems to be mesmerized by the sound of her victim's cries of anguish! Even as Lexie crumbles towards the mat, that Iron Claw stays locked in place as Diane follows Fyfe down to the mat with that deadly grip firmly in place.
Once again, SLAMminLadies.com comes through and provides fans with some incredible ring action! Wrestling newcomers, ring veterans, today's current ladies...seems that SL has them all. Great work by Lexie Fyfe and her entire SLAMminLadies.com crew!
Photo:
SLAMminLadies.com
Bonus POD!
Picture #2
Bonus POD!
Photo:
SLAMminLadies.com
Bonus POD!
Picture #3
Bonus POD!
Photo:
SLAMminLadies.com
Bonus POD!
Picture #4
Bonus POD!
Photo:
SLAMminLadies.com