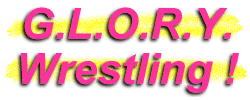 Lexie Fyfe
Wrestler
Lexie Fyfe, "The Foxy Lady", has quickly become one of the most recognized faces--male or female--on the indy scene today. Why? The fact that Lexie is continuously on the road and wrestling from coast-to-coast is one reason. Another reason is that she's also toured Europe in a series of matches where she took on 80s wrestling star Wendi Richter. And the final reason is that she's just that damn good! Since starting her wrestling career in 1995, Ms. Fyfe has attained a level of popularity greater than many wrestlers who have been in the business two and three times as long. Lexie Fyfe has accomplished a great deal in her short career...but no one doubts that the best is definitely yet to come for this talented wrestler!
"Lexie looking sexie" in a photo by Jan Sanders.
One of Lexie's trademarks is her wild, psychedelic wrestling gear.
Lexie and fellow G.L.O.R.Y. Girl Tracy Brooks.
Ms. Fyfe poses backstage prior to a match.
Lexie suffers from a nasty nerve claw applied by arch-enemy Brandi Alexander.
Lexie Fyfe's Stats...
Height:

5' 4"

Weight:

135

Hair:

On what day?!

Eyes:

Blue

Hometown:

Denville, NJ growing up...then Burlington, North Carolina (USA) where I started wrestling.
Lexie Fyfe's Profile...
How It Started:

I started training in April of 1995, and became involved in some matches over that summer. But I had my "real" first match in August of that year. It was a six-person tag match with myself, Denny Cooley, and Ricky Morton versus Brandi Wine and the Mavericks. Brandi had actually approached me about wrestling when she was looking for a training partner. I thought it would be fun so I gave it a try. Over the next few months, Brandi and I had some arguments over her style of cheating...I mean...wrestling. It became a feud that lasted a couple of years. I didn't grow up wanting to be a wrestler, although I watched it on TV and loved it. The first time through the curtains hooked me for life, though! The crowd's reaction and the rush it gave me...it's an awesome feeling! I'm totally addicted to it!

Gimmick:

None. I'm just me...only louder.

Wrestling Style:

Old school with a new school edge.

Gear:

I usually wear boycut shorts and short tops.

Titles Held:

I currently hold the PGWA women's title, the Western States Women's belt, the Ultimate Championship Women's belt and the FCW/NACW Women's belt. FCW claims that I lost the belt to Alexie Laree...but I'm disputing that due to poor officiating.

Biggest Win:

The PGWA Women's Championship match in a three-way dance versus Brandi Alexander and Riptide.

Worst Loss:

I could say the FCW title loss...if I had lost it! But let's not get into that. It would probably be never pinning Wendi Richter on our European tour. That would have been pretty satisfying.

Favorite Type of Match:

I prefer straight one-on-one matches, but occasionally I like to switch it up with a mixed tag or strap match.

Favorite Moves/Holds:

I love suplexes and any leg submission holds.

Finisher:

I usually use a running bulldog or powerbomb because they are hard to kick out of. I'm pretty vicious with them and don't hold anything back when using either maneuver. I judge my opponent though, and if I can outsmart them or overpower them with something else, then I'll use whatever I feel comfortable with.

Biggest Allies:

Allies? Who has time???

Most-Hated Enemies:

Brandi Alexander; Mighty Heidi; Macaela Mercedes; and don't forget Alexis Laree.

Favorite Wrestlers:

I like so many different wrestlers for different aspects of their style or character. It would be hard to pinpoint any one wrestler. I love people that have it all: charisma, ability and the philosophy of wrestling.

Wrestling Ambition:

I would just love to keep wrestling until I either can't do it anymore or it becomes not enjoyable to me. I have fun with what I do and hope that it never becomes a chore or boring to me.
Lexie Fyfe's Personal Notes...
When I do have an occasion to be away from wrestling, I prefer to have some "quiet time".....Reading is a big interest.....I also enjoy going to movies. In fact, I rarely watch regular television unless it's a movie.....I also collect dragons and Precious Moments.....I like all kinds of music (except opera).....I love to eat and I'm a major "chocoholic"!!! Nothing beats Hershey's w/Almonds or Reese's Peanut Butter Cups!
Essential Lexie Fyfe Links...