Picture Of The Day for June 16, 2008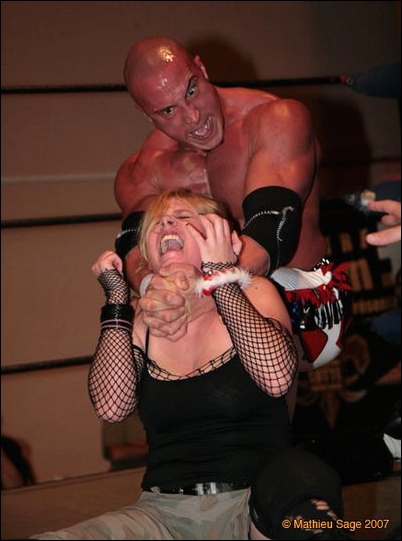 ALF: Not Afraid Of Taking On the Guys!
Yesterday we showed you the violent women of ALF as they dished out pain and abuse to their unfortunate opponents in their quest to come out victorious. Today, another look at how tough these ladies are...this time absorbing punishment from vicious male opponents who hold nothing back in these intergender clashes. In the picture above, an obviously deranged male wrestler puts the squeeze on one of the ALF girls. Look at that guy...he looks as though he's trying to crack her skull like a walnut!
Below, a lunatic Joker-wannabe has G.L.O.R.Y. Girl LuFisto howling in pain as he stomps away with repeated boots to the blonde's head. Finally, a huge guy...obviously outweighing the smaller girl by at least three times...works his opponent from outside the ring. Not only does he try to wrench the lovely grappler's neck against that lower turnbuckle, he also has that right fist balled up...apparently preparing to drive a blow into the brunette beauty's face!
We doubt that you can find a more intense, tough and brave group of ladies on today's indy scene than the women of ALF.
Photo:
Mathieu Sage
Bonus POD!
Picture #2
Bonus POD!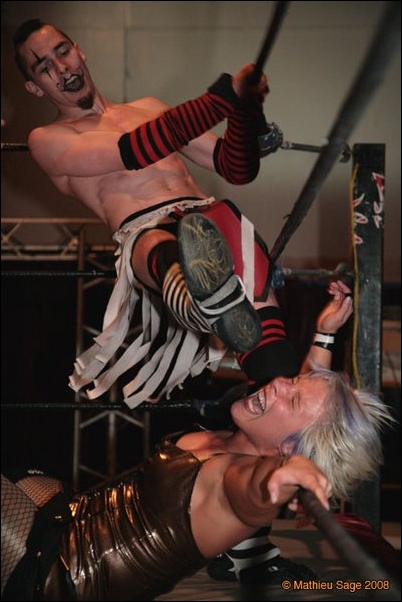 Photo:
Mathieu Sage
Bonus POD!
Picture #3
Bonus POD!
Photo:
Mathieu Sage