Picture Of The Day for June 15, 2008
The Violent Ladies Of ALF!
Over the last couple of years, G.L.O.R.Y. Girls LuFisto, Portia Perez, Danyah, 21st Century Fox, Vanessa Kraven and others have been participating in one of Canada's most dynamic, violent and fastest-growing women's feds: Association de Lutte Feminine (ALF). We want to give you a taste of what wrestling life is like inside the ALF ring.
First up, the lovely lady you are looking at in the picture above is Kacey Diamond. As you can see, she's quite intense when it comes to her wrestling...especially when she's devastating her opponent! And her unfortunate opponent, buried underneath her here, is none other than G.L.O.R.Y. Girl Portia Perez. And the reason why Portia can't escape from this attack? Diamond has Perez's own pink scarf wrapped tightly around her throat!
Photo:
Mathieu Sage
Bonus POD!
Picture #2
Bonus POD!
Two Boots = Big Pain!
When these ladies meet in the rings of Ontario nothing is held back. NOTHING. In other feds, a stomp to the body is common-place. The ladies have absorbed and dished out such punishment on a regular basis. But this is quite different! Take a look as some devastating damage is about to be delivered to Kassandra's body via the boots of Kelly Hart. This isn't just a stomp...this is a total squash!
Photo:
Mathieu Sage
Bonus POD!
Picture #3
Bonus POD!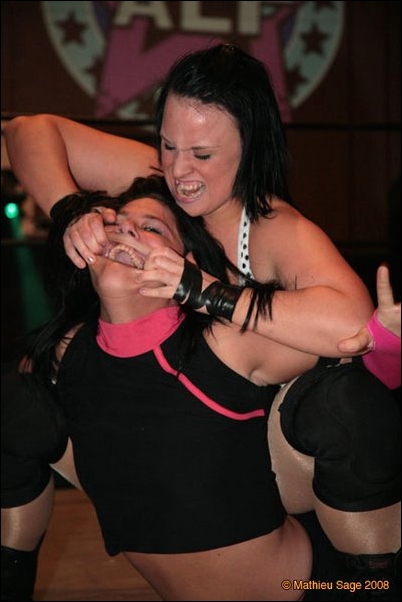 Calling Dr. ALF...Face Transplant In Progress!
Wow! We've seen some nasty looking face claws, eye rakes and mouth stretches...but this move cranks it up to a whole new level! That's poor Kassandra (once again) in obvious pain as she's tormented by the nastiest mouth-ripper we've ever seen. Stefany, who seems to be putting everything she has into mangling the features of her trapped opponent, doesn't look like she's about to let up on the maneuver anytime soon. How long do you think it took for this poor lady to get feeling back in her lips?!
Tomorrow: More (but different) ALF action!
Photo:
Mathieu Sage