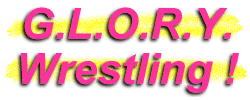 LuFisto
a.k.a. Super Hardcore Anime; Missionary of Violence
Wrestler
Hello Kitties! This is your favorite hardcore anime, the most perverse, the most violent, but also the sweetest Super Hardcore Anime in the whole wide world: LuFisto! However, there is also the Dark Side of LuFisto, the Missionary of Violence, the evil girlfriend of Quebec's finest wrestler, Samson. Mixing scientific skill and bone shattering violence, this strong-style specialist woman warrior has blazed a blood soaked path from The Great White North to the rings of Mexico, Japan and beyond. Thumbtacks, light tubes, barbed wire and other implements of carnage have served her well in her quest to prove that she is as tough as they come. Holder of numerous men's championships, winner of a few tournaments and a Quebec Wrestling Hall of Fame Inductee, LuFisto continues to demonstrate a willingness to put her body on the line to preserve and further her status as The First Lady of Hardcore and The Missionary of Violence (when she turns to her evil side) while kicking ass and looking good doing it!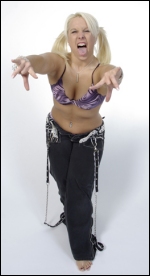 The wild, crazy and unpredictable LuFisto!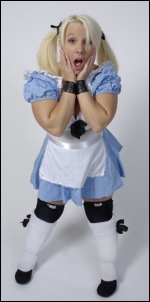 It's easy to see how
The Anime Warrior
got her nickname.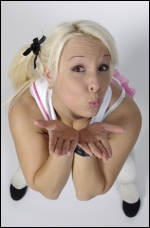 A kiss from LuFi!
Many fans insist that LuFisto has taken more punishment in the ring than any other lady on the wrestling scene today. Need more proof than this photo of a bloodied LuFisto after one of her latest hardcore battles?!
POW!
LuFisto will take on anyone inside...or outside...the ring ropes!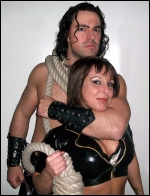 The Missionary of Violence and her boyfriend, Samson.
LuFisto's Stats...
Height:

5' 3"

Weight:

140

Hair:

Black

Eyes:

Green-Brown

Hometown:

Montreal, Japan
LuFisto's Profile...
How It Started:

I started watching wrestling at a very young age with my grandma but I was into music back then. I played in a band starting from 12 years old, but I needed something more challenging. So by age 14, I got back into watching wrestling as many of my friends were big fans. A wrestling school opened up in my hometown in 1997 and almost everybody was telling me I wouldn't be able to go through the classes. I was too small, too fat and just a girl. I wanted to prove everybody wrong so I joined the school and decided I would become the best in the class, being the only girl there.

Gimmick:




About LuFisto, the Super Hardcore Anime...


The character of LuFisto is based on Japanese mangas and animes. That's why she is a Super Hardcore Anime! She isn't scared of facing her worst fears to achieve her goals. She can be super cute when you first see her but when the bell rings and the fight is on, the anger in this super hero comes out full throttle! It's brutal violence juxtaposed with extreme cuteness!



About LuFisto, Missionary of Violence...


LuFisto, as the girlfriend of Samson is cocky, over-confident and one of the loudest mouths on the circuit. She sees herself as a Hollywood star and pretends to be the Alpha Female of Quebec Wrestling. At all cost she will defend her man Samson against the toughest opponents. She loves to dress as a mistress or wear anything that will piss off the crowd that she hates so much. It's tough love between Samson and LuFisto, but this combination has been working out very well for the couple.

Wrestling Style:

A mix of stiff, technical and high-impact wrestling spiced-up with some high-flying and hardcore wrestling. LuFisto likes to use any kind of move that hits hard and finds her inspiration mostly in Japanese wrestling.

Gear:

I usually wear something very girly and flashy. In fact, it's a distraction since you don't know what's really coming. You won't expect a little girl like this to hit that hard. Sort of like a super hero! Skirts, kimonos, cute shirts and piggy tails! My inspiration? Sailor Moon, of course! When I become the Missionary of Violence, I like to wear dark clothes, leather, lace, etc...

Titles Held:

UWA Cruiserweight Championship (male); Two-time ICW Provincial Championship (male); Two-time ICW Tag Team Championship (male); ASW Canadian Championship (male); LLF Extreme Championship; SAW World Championship (male); Quebec Super-8 Women's Champion; CZW Iron-Man Championship (male); Canadian King of the Death Matches 2006 Winner (male); Quebec Wrestling Hall-of-Fame Inductee; ALF Sherri Martel Memorial Cup Winner 2007 with El Generico; 2007 Queen of the Death Matches Winner; CZW Best of the Best People's Choice 2008 (male); ICW Olympic Championship (male); ALF Championship.

Biggest Win:

Defeating the Necro Butcher to become KOTDM and pinning Kevin Steen for the CZW Iron-Man Championship.

Worst Loss:

Spanish Fly from the apron and onto the concrete floor, through a table of lights, against Triple-champion Joe Lider at NGX in Mexico. Ouch!

Favorite Type of Match:

No-Holds-Barred...because anything can happen and you can use anything you want!

Favorite Moves/Holds:

German suplex; Saito suplex; stomps; hard kicks; Otani kicks; Tenru chop-punch combo; knee strikes; lariat; Northern Light suplex; suicide dive; Cannonball; Michinoku Driver; back punch; forearm strikes; head butts; head scissors; flying head butt; top rope rana; Cradle DDT; Mafia kick; Tornado DDT; DVD; Gutbuster.

Finisher:

"Burning Hammer"; "Emerald Fusion"; "Konnichiwa-Goodnite"

(rear choke-hold).

Biggest Allies:

Samson; Jen Blake.

Most-Hated Enemies:

Anybody who wants to stop me!

Toughest Opponent(s):

The Necro Butcher; Sami Callihan; Cheerleader Melissa; Mickie Knuckles; Wesna Busic; Awesome Kong; Tank.

Career Highlight:

Winning KOTDM 2006 and QOTDM 2007; wrestling in Japan, Germany and Mexico; my 2008 matches with Melissa, Wesna Busic and Awesome Kong. All the titles I've collected mean a lot to me. It means that the promotions I worked for appreciated my work.

Favorite Wrestlers:

Bull Nakano; Chris Benoit; Owen Hart; Mariko Yoshida; Kenta Kobashi.

Wrestling Ambition:

More gold, more good matches, bigger crowds and visit many countries!
LuFisto's Personal Notes...
Not only am I a professional wrestler, but I also have a University Certificate in Multimedia Design and Graphics in Desktop Application. So when I'm not wrestling, I work on websites, graphics and videos.....I also play guitar, bass and I sing. Before becoming a pro wrestler, I was playing in a band.....I create my own wrestling outfits and.....God bless sushi!
Essential LuFisto Links...
LuFisto Video