Picture Of The Day for May 26, 2008
Lots To Like About Lorelei Lee
G.L.O.R.Y. Girl Lorelei Lee looks stunning at a recent wrestling event where she took the time to pose for a few pictures on the ring apron as a world-famous wrestling photographer (that would be Wrestlin' Wally!) snapped off some wonderful shots. There's lots to admire about the blonde country girl: that great smile, beautiful face and athletic physique all combine to make Ms. Lee a crowd favorite. And who doesn't marvel at those incredibly sexy abs...arguably the best on the G.L.O.R.Y. Wrestling roster?!
Apparently, fellow G.L.O.R.Y. Girl Amber O'Neal, that's who.
At last month's SHIMMER event, Amber and Lorelei locked it up in the Berwyn, Illinois ring. And what do you think was one of Amber's first targets in this match? Right...Lee's midsection. Amber seemed to take delight in cornering Lee against the turnbuckles and hammering away with fists to the blonde's belly. And just for good measure, when O'Neal tired of blasting fists into Lorelei's body, she simply made a minor tactical change and switched to laying some big boots into the exposed abs.
An interesting strategy for Amber to follow. Usually, a wrestler will attack her opponent's weakness. In this match O'Neal viciously attacked her opponent's strength...and it worked! In the end it was Amber O'Neal who came away with the win.
Photo:
Wrestlin' Wally
Bonus POD!
Picture #2
Bonus POD!
Photo:
Wrestlin' Wally
Bonus POD!
Picture #3
Bonus POD!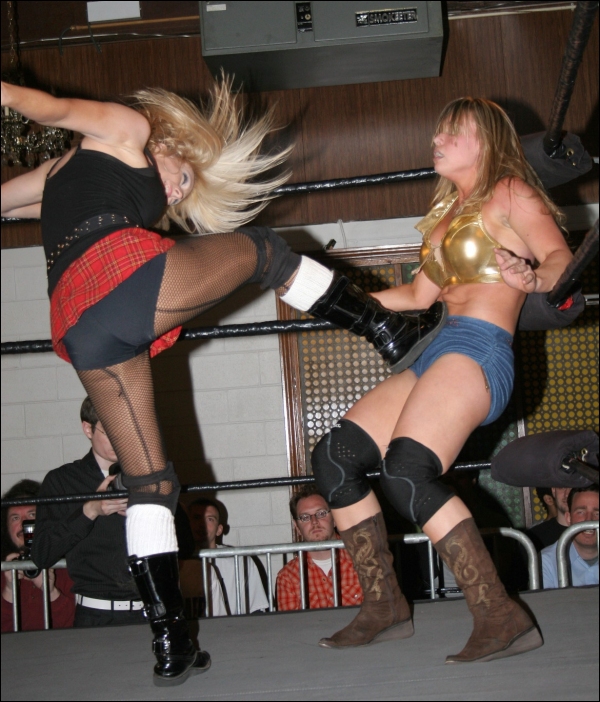 Photo:
Wrestlin' Wally