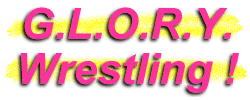 Amber O'Neal
Wrestler
Amber O'Neal--the gorgeous, blonde beauty who is setting Mid-Atlantic rings afire--is someone you might expect to see on a magazine cover rather than a wrestling ring. But this sexy young lady doesn't do what is expected. While most women as beautiful as she would prefer to be posing in front of a photographer's lens, Amber is more comfortable in a wrestling ring or on a motocross bike! This lady is all-action, all-business, and 100% tough. In her short ring career, Ms. O'Neal has already defeated the likes of WWF legends Deseriee Peterson and Leilani Kai. She's stepped into the ring to take on many a male opponent. And she's captured three major championship belts...along with the attention of every fan who has seen her in action. Amber O'Neal is on the fast-track to the top of the women's wrestling world.
Amber O'Neal is a blonde beauty.
Amber is willing to absorb plenty of punishment in her quest for victory.
Amber takes down Lexie Fyfe with a nice flying headscissors.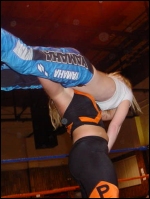 Amber is on her way to a hard landing...courtesy of a Phoenix bodyslam.
Amber O'Neal's Stats...
Height:

5' 8"

Weight:

140

Hair:

Blonde

Eyes:

Green

Hometown:

Greenville, North Carolina (USA)
Amber O'Neal's Profile...
How It Started:

I guess you can say I was just kind of drawn into this business. I've been a wrestling fan for a long time, and it just got to the point where I realized I had to make the jump from fan to wrestler.

Gimmick:

You can call me a tough motocross chick...because that is EXACTLY what I am! I just took my love of motorcycles and my love of wrestling and merged them into one exciting ring personality.

Wrestling Style:

Technical with plenty of high-flying maneuvers.

Gear:

I wrestle in my motocross gear: Yamaha motocross pants, tank tops and black boots.

Titles Held:

NACW Womens Champion; CWF Womens Champion; CCW Womens Champion.

Biggest Win:

When I won the CWF Womens Championship in a match against Leilani Kai.

Favorite Type of Match:

Mixed tag.

Favorite Moves/Holds:

Crucifix, High-Crossbody, "Hollybury".

Finisher:

Hollybury/Crotchrocket.

Biggest Allies:

Mikael Yamaha, Grant Sawyer, Jeanna Starnes, Jeff Rudd.

Most-Hated Enemies:

Persephone.

Career Highlight:

Going over Leilani Kai and Deseriee Peterson--two WWF legends.

Favorite Wrestlers:

Hardy Boys and Lita.

Wrestling Ambition:

I would like to continue in the wrestling business, get better and eventually sign a WWF contract.
Amber O'Neal's Personal Notes...
I consider myself a hard worker when I am going after something I really want.....My goal is to become a successful wrestler, as well as a respected one.....In my spare time, I love racing motocross bikes with my better half (inside and outside of the ring), Mikael Yamaha.....I like to listen to alternative rock.....My favorite color is green.....I spend a lot of my extra time training and perfecting my skills in the ring so that my dream of becoming a WWE Superstar can come true one day.
Essential Amber O'Neal Links...