Picture Of The Day for April 25, 2008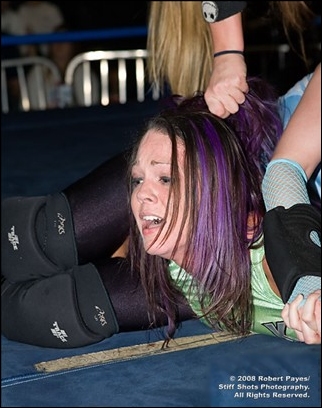 What's Wrong, Nikki?
Stiffshots Photographer Robert Payes captured this close-up of G.L.O.R.Y. Girl Nikki Roxx as she competed at this past weekend's WSU event in Lake Hiawatha, New Jersey. From the look on the indy/TNA star's face, we're guessing that she's in more than a little pain right now. But why?
Photo:
Robert Payes/Stiffshots Photography
Bonus POD!
Picture #2
Bonus POD!
Ohhhh...Never Mind!
As Emily Litella would say: "Ohhhh...never mind."
When Payes pulls back and takes a wider angle shot of the action, our question is easily answered. Who wouldn't have a pained look on their face in this situation? With Cindy Rogers scissoring and wrenching her arms and Alexa Thatcher folding the legs in the early stages of a boston crab, it's no wonder that Nikki is crying in agony!
Photo:
Robert Payes/Stiffshots Photography