Picture Of The Day for March 17, 2008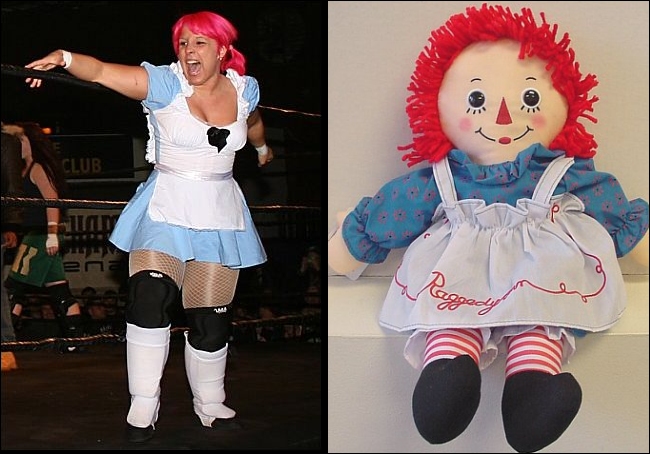 G.L.O.R.Y. Girl: Raggedy LuFisto?
Looks like G.L.O.R.Y. Girl LuFisto was reliving her childhood recently when she headed to the ring to do battle in an outfit reminiscent of Raggedy Ann. It's not hard for us to imagine five year old LuFisto bodyslamming Raggedy Andy during playtime back in her early childhood!
Bonus POD!
Picture #2
Bonus POD!
A Flying Doll!
One thing is for sure: LuFisto's match against fellow G.L.O.R.Y. Girl Mickie Knuckles was far from child's play. Take a look as Raggedy Lu flies across the ring and prepares to stomp a big boot into the head of her opponent. Now that's one tough doll!
By the way, that is G.L.O.R.Y. Girl Roxie Cotton in her referee stripes watching over the action.
Bonus POD!
Picture #3
Bonus POD!
YEOWWWCH!
These two ladies weren't playing around during this violent match. Case in point: this suplex that was executed right on the wood and steel ring steps. It's hard to believe that either lady was able to walk away from this body-busting maneuver.
But then again, what else would you expect to see in a match that involved both LuFisto and Mickie Knuckles?
Bonus POD!
Picture #4
Bonus POD!
Mickie Stomps The Stuffing Out Of A Doll...
Mickie may have taken early abuse from LuFisto, but it wasn't long before she also dished some pain to the living doll. Here, Raggedy LuFisto's head is trapped between the bars of the ringside barricade...giving Knuckles an easy opportunity to stomp the stuffing out of the Canadian doll.
LuFisto is an accomplished graphic artist and webmaster. And, as always, her website has had a total makeover recently. Check out the link below for all the lastest on LuFisto. You know what? Why don't you check all the essential links below to learn about all the G.L.O.R.Y. Girls involved in today's POD.