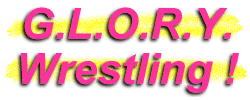 Mickie Knuckles
Wrestler
Looking for a flashy, glamorous, high-flying wrestler who looks like she just stepped out of the pages of a fashion magazine? Then Mickie Knuckles is not the girl for you! On the other hand, are you looking for a tough, technical grappler? A no-nonsense wrestler whose emphasis is on skill and substance over sex-appeal? A strong, hardcore battler who will brawl over every inch of the canvas in search of a victory? Then here is the athlete for you: Mickie Knuckles!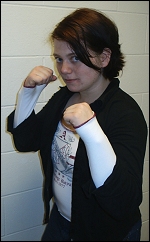 Mickie Knuckles is all business.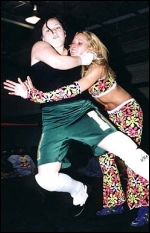 Mickie has the headlock in place as she prepares to take Daizee Haze down to the mat.
Mickie is not above bending the rules a bit. A kick to Daizee's belly gains her the advantage here.
Knuckles isn't afraid to mix it up. Look at this devastating right cross!
Mickie Knuckles' Stats...
Height:

5' 4"

Weight:

None of your damn business!

Hair:

Ever-changing. Right now, dark red.

Eyes:

Hazel

Hometown:

Clarksville, Indiana (USA)
Mickie Knuckles' Profile...
How It Started:

I've been a fan of wrestling since I was five years old. One night during an IWA Mid-South show, I witnessed a "bubble bath match" between two girls who basically rolled around in soap suds in the ring and didn't actually wrestle. I went to Ian Rotten and asked if I could have my picture taken with them. He just sort of laughed at me. Soon after, his wife Patti suggested that I train to be a wrestler. It was something I always wanted to do, so I decided I would give it a try. I worked for IWA Mid-South while training...doing security, helping out on the day of shows with odd jobs, and eventually refereeing. My first wrestling match was on August 2, 2003 when I defeated Hailey Hatred. Since then, IWA has implemented a Women's Division and has begun to emphasize serious female athletes with a women's bout on virtually every IWA card. Today I am a part of the IWA Women's Division and the only female training under Ian Rotten and Chris Hero.

Gimmick:

I am a tough female who can hold her own with any opponent, either man or woman.

Wrestling Style:

Technical wrestling with a "Strong Style" overtone.

Gear:

Boxer style gear. Dark green shorts with gold lettering, black shirt and kick pads. I am more concerned with my ability and functionality in the ring than looking flashy.

Biggest Win:

Against Hailey Hatred. She knocked me unconscious twice...but I still came back and scored the victory!

Worst Loss:

To "Spyder" Nate Webb.

Favorite Type of Match:

Hardcore; "Strong Style"; Technical.

Favorite Moves/Holds:

Cravate; Butterfly Indian Deathlock.

Finisher:

Northern Lights Suplex; German Suplex.

Biggest Allies:

Daizee Haze; Chris Hero; Ian Rotten.

Most-Hated Enemies:

Allison Danger; Rain; Lacey; Hailey Hatred.

Career Highlight:

Wrestling Ian Rotten in the first round of the 2003 IWA Mid-South Ted Petty Invitational Tournament.

Favorite Wrestlers:

Chris Hero; "The Tremendous" Emil Sitoci; Ian Rotten; Mark Wolf; Daizee Haze; Molly Holly; Sir Oliver Humperdink.

Wrestling Ambition:

To make my mark on the women's wrestling scene and also to be able to stand my ground with the men in this business.
Mickie Knuckles' Personal Notes...
I like to sing and dance.....I also love to play with my dogs.....I read a lot.....When I'm not training or at a show, you'll probably find me clubbing with frients or at the tattoo parlor!
Essential Mickie Knuckles Links...