Picture Of The Day for March 7, 2008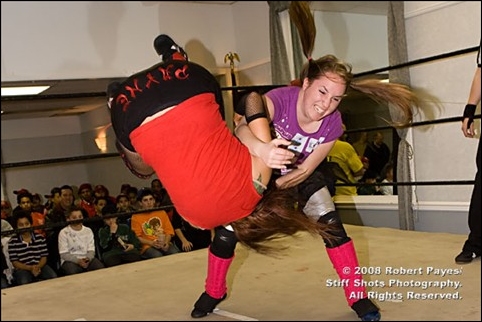 Can Roxie Notch Her First WSU Victory?
T-minus one day until the big 1st Anniversary WSU Show at the ECPW Arena in Lake Hiawatha, New Jersey! Lots of G.L.O.R.Y. Girls will be battling it out tomorrow...and one of them will be Roxie Cotton, looking for her first win after taking four poundings at the hands of the rough and brutal WSU roster.
Roxie was in action last weekend at the picturesque Jersey Shore (that's right, NJ isn't all turnpikes, refineries and airports...only about 90% of it is) as she took on Rebecca Payne in a tune-up match for NWS. As you can see, Roxie looked sharp early on. Here, she executes a nice hip toss and sends her opponent sprawling to the mat. But as the match went on and Payne got more desperate, she resorted to a more vicious style which Cotton found hard to counteract.
Below, you'll see what happened to Roxie once Payne threw the rulebook out the window. With her pigtails flying, Cotton's head snaps to the side as she takes a hard shot to the side of the skull. Next, all the oxygen leaves the room...well, for Roxie anyway...as Payne simply clamps a hand around her throat and viciously chokes-away. Finally, the G.L.O.R.Y. Girl's pigtails are used against her as Payne steps on one of them to keep Roxie's head pinned to the canvas. In a moment, Cotton will be screaming in pain as her arms are stretched up and she's forced to arch off the mat to relieve the pain in her neck and back!
Believe it or not, Roxie actually came back to win this match against the tough Payne. A gutsy performance by Roxie for sure. But let's be clear: Rebecca Payne is not yet on par with the vicious and brutal competitors that dominate the WSU roster.
Will cute little Roxie be able to carry forward her momentum from last weekend and use it to notch her first WSU win? Or will the 80's Valley Girl once again be mauled within the confines of the ECPW Arena?
Photo:
Robert Payes/Stiffshots
Bonus POD!
Picture #2
Bonus POD!
Photo:
Robert Payes/Stiffshots
Bonus POD!
Picture #3
Bonus POD!
Photo:
Robert Payes/Stiffshots
Bonus POD!
Picture #4
Bonus POD!
Photo:
Robert Payes/Stiffshots